It looks like the dating rumors are true, Kanye West and Kim Kardashian step out in Manhattan hand in hand!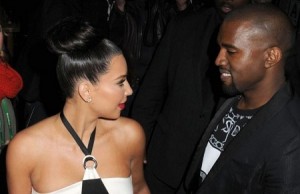 After weeks of shutting down reports of being "just friends", the pair make their first public appearance together. The high profile duo made a swift entrance into Chanel's Tibeca Film Festival Artist Dinner, and purposely avoid doing any interviews or making a red carpet appearance.
In fact both Kim K. and Kanye who are known for their fabulous style, dressed in a similar understated monochromatic color palette. Kim Kardashian wore a black and white Chanel halter dress, while Kanye West opted for a t-shirt, blazer and pants.
Once safely inside, Kim and Kanye were seemingly free to be open with their new romance. Us Weekly spoke to sister Kim K's sister, Khloe Kardashian, about the couple who said "It's a really good friendship that went into dating."
One thing is for sure, Kanye West has no trouble being open about his affection for Kim. He released the song "Way too Cold," where he confesses his love for Kim K. and bashes her ex Kris Humphries.
As for Kim Kardashian's ex-Husband, dating seems off the table for now. Kris Humphries has said (several times) that he will not date until after the divorce is finalized.
What are your thoughts on Kim and Kanye's romance? Too much too soon, a publicity hook-up, or the perfect match?