With the anniversary of Kate Middleton and Prince William on Sunday, we at First Class Fashionista decided to put together Kate's top 10 best looks. Every since her walk down the aisle in Alexander McQueen, Kate's personal style has evolved to be coveted around the world.
1. The Duchess certainly dressed the part when she attended the Irish Guard Metal parade. The 2-piece ensemble from designer Alexander McQueen's fall collection fit her like a glove.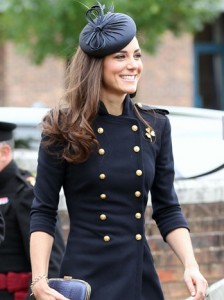 2. The first time the couple made their public announcement of their engagement, Kate looked beyond regal in a jewel tone Blue Issa dress. The silhouette complimented her slender frame while the front twist gave the garment a youthful appearance.
3. The Sarah Burton for Alexander McQueen wedding gown will forever be one of the most iconic dresses to go into fashion history.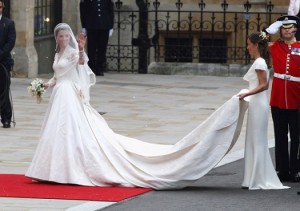 4. As part of the new couples post engagement appearance, Kate wore a traditional Burberry trench with frilled hem. The impact of the style was so large that it nearly sold out within hours of her attendance.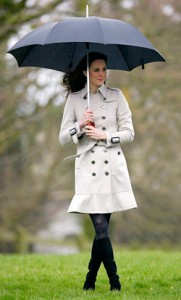 5. Upon meeting the Canadian Military in Calgary, Alberta, Kate donned a vintage inspired light yellow Jenny Packham dress.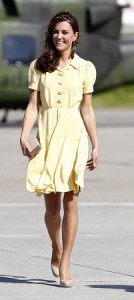 6. In celebration of her 30th birthday, Kate wore a black and cream lace gown by Alice Temperly to the UK premiere of "War Horse".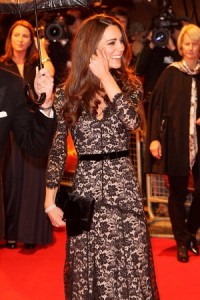 7. As part of a visit to Prince Edwards home on July 4, Kate arrived in a sailor inspired dress designed by Sarah Burton for McQueen.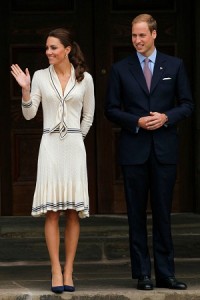 8. During William and Kate's tour of Canada in July 2011, the Duchess went with a more casual look of J.Brand Skinny Jeans and a navy fitted blazer.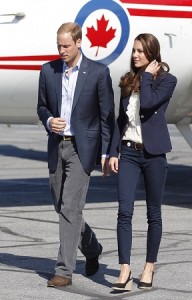 9. As part of the Prince's foundation for Children and The Arts, Kate went for a gray quarter sleeve dress by Orla Kiely.
10. One of the Duchess's one recent looks was from an event in the Olympic park, where she met the men's and women's GB hockey teams. With colored denim being such a huge trend this year, we love how Kate embraced her inner athlete while being stylish at the same time!
Looking back at the past year what do you think was the Duchess's best look?