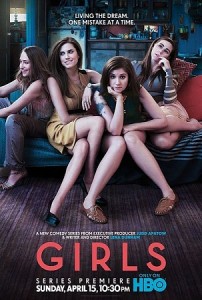 With so many unrealistic "reality" shows floating around these days, HBO's "Girls", which premiered April 15th, is a refreshing idea. Created, written, and produced by star Lena Dunham, the comedy portrays the lives of three girls in their early twenties battling issues with boys, jobs, and their bodies. The show is fast-paced and very relateable to Fashionistas around the country.
The show takes place in Brooklyn, New York, where Hannah (Lena Dunham) is two years out of college and still trying to find her place in the world. Luckily, she has honest and down-to-earth friends that love her no matter what. Her best friend and roommate, Marnie (played by Allison Williams, Brian Williams' daughter) is tall, confident, and beautiful, which is something Hannah aspires to emulate.
What grabbed my attention about the show is the believable settings and situations the girls find themselves in. They are ballsy and witty, but handle problems with class and common sense. The "Girls" aren't all models-turned-actresses either. They appear to be real women with talent, adding to the unique feel of the show—not to mention how cool each of their personal styles are!
For more information on show times, or to watch full episodes for free, go to http://www.hbo.com/girls/index.html, enjoy Fashionista!