First Class Fashionista would like to invite you to shop:
Discount Designer Clothes
Discount Designer Shoes
Discount Designer Handbags
*BOOKMARK THIS SITE for Updates* Lea Michelle on the Red Carpet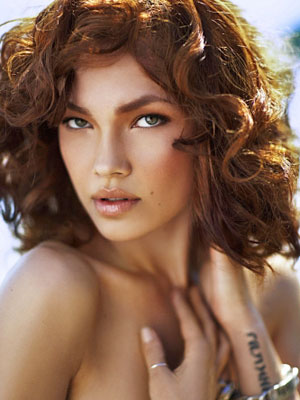 *Elina:
First Class Fashionista Elina gets the drastic first in ANTM history, says Mrs. J.
"Elina reminds me of Angelina Jolie and there is only one of her, so make her red, wavy, thick and luscious," says the fierce witch. Kiyah Wright was Elina's hair stylist. Kiyah Wright is said to be the weave mastress.
Elina's Response:
While crying she says, "I'm not angry that I have this look. I don't look like myself and letting go of that is very hard." Is this a good look for Elina?
Here is where you can tell fans what you think. Share a comment with thousands of visitors. *Copyright Protected. First Class Fashionista permits a direct link and photo credit.
*Fans are obsessed with celebrity/celebrity tattoos. What do they say? What do they mean? Sometimes it's obvious… Sometimes we just don't know. Tell thousands of fans what you think about Elina's tattoo. Share a comment.