COVERGIRL Sofia Vergara, star of "Modern Family", looked absolutely stunning at last night's Met Costume Gala. She wore a beautiful Marchesa gown, jewelry by Harry Winston, and makeup by COVERGIRL, flawlessly applied by Celebrity Makeup Artist Kayleen McAdams.
COVERGIRL was the first to unveil exclusive behind the scene pictures of Sofia's look from her hotel room via Twitter.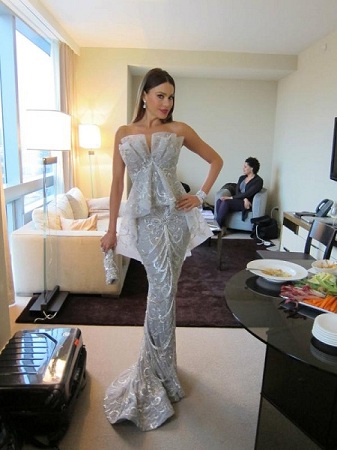 Photo courtesy of @COVERGIRL and @SofiaVergara
Today, Kayleen shared how to achieve Sofia Vergara's COVERGIRL look with First Class Fashionista!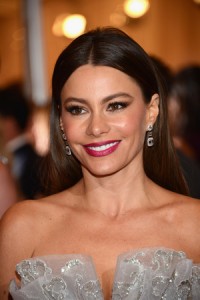 Photo courtesy of P&G / COVERGIRL via MMC / FH
I first applied COVERGIRL NatueLuxe Silk Foundation in Nutmeg all over her face using a blender sponge. I then used COVERGIRL TRUconceal Concealer in #4 just where we needed under the eyes and around the nose to keep the makeup sheer. To set the look, I used a big fluffy brush to apply COVERGIRL Clean Pressed Powder in Soft Honey and then used COVERGIRL Cheekers Blush in Plum Plush to complement her lips.

I wanted to create an eye on Sofia that's lighter than usual. I applied COVERGIRL Queen Collection Vivid Impact Eyeliner in Truffle along the bottom lashes from the outer corners to the very inner corners and then applied a lighter line along the lash line at the top to create dimension. I applied COVERGIRL Eye Enhancers 1-Kit Shadows in Swiss Chocolate on top of the liner on the lid to create a softer effect and then used COVERGIRL Eye Enhancers 1-Kit Shadows in Mink along the brow bone. I used two coats of COVERGIRL LashBlast 24HR Mascara in Very Black on the top and bottom lashes to finish the eyes.

I lined the lips first with COVERGIRL LipPerfection Lipliner in Beloved and then filled them in with COVERGIRL Queen Collection Lip Color in Regal Raspberry using a lip brush to create dimension and contour the lips.

We knew we wanted to use a grapey-pink lip color to make Sofia's lips stand out, but we had to play around with three different shades of purple before choosing the one she's seen wearing. Since her look is all about the lips, I wanted to make sure the color stayed vibrant all night long so I gave her the COVERGIRL lip liner and lipstick to keep in her purse before she hit the red carpet.