Part cheesy entrances, helicopter landings and over confident suitors, the new season of the Bachelorette is sure to be a crowd pleaser!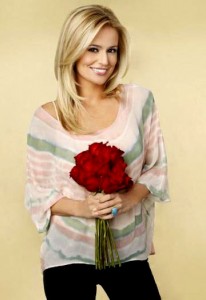 This season's gorgeous and bubbly southern belle Emily Maynard, knows all too well the craziness that goes into the show. The then contestant won the heart of both at-home audiences and Season 11 Brad Womack, but was devastated when the proposal quickly ended.
Several years later she's back at it, and this time hopes to find a true lasting love. The single mother's tragic background was addressed, and soon she was whisked away to a private mansion by host Chris Harrison.
One after another, limos began to drop off men all vying for Emily's heart. 25 contestants began unloading from the limos, some more memorable than others. Most men ranging in age of 28-32 years old, from all walks of life, tried their best to win her over.
Instantly 33-year-old single dad Doug caught our attention. After fitting much of his background into his 30-second introduction, it was clear that he had a major foot ahead of the others.
It wasn't until 30-year-old Arie arrived that we were convinced there might be more "eligible" contestants than expected. The race-car driver was able to find some time for introductions after the men arrived.
Those familiar with Emily's past know that her late husband was a NASCAR driver, and Arie was unsure how she would take the news of his career. It couldn't have gone more smoothly. As it turns out, she loves the sport and continues to have wonderful memories from her time there.
After what seemed to be the last limo making its way out of the gate, a helicopter suddenly appeared in the wrap around of the expansive mansion. Men from the backyard instantly began to ploy with one another to exclude the showboating individual.
Out of the helicopter appeared 27-year-old Kalon, a luxury-brand-consultant from Texas. It was clear that this wasn't going to be the last of Kalon's grandstanding antics. Immediately singled out from the majority of the group, Kalon became the target of many of the competitors.
In the end, Emily gave the first impression rose to single-dad Doug, who gave her a hand-written note from his son, which explained why she should pick his dad. The night ended with the final rose ceremony, where Randy, Jean-Paul, Brent, Lerone, Jackson and David were sent home.
What were your thoughts on the Bachelorette premiere? Who do you think are the top candidates for Emily?