65th Cannes Film Festival kicked off last Wednesday!
The festival is host to twenty-two films this year, some who offer all-star casts. Twihard fans have something to look forward to, both Robert Pattinson and Kristen Stewart will be at this year's festival. R-Patts and K-Stewart have leading roles in two different films. Kristen will be staring in Jack Kerouac's On The Road, where she will share the screen with Amy Adams, Kirsten Dunst and Garrett Hedlund.
As for Robert Pattinson, he is the main attraction in the movie Cosmopolis, a futuristic film about a young man with power. Another American film that has made it way to Cannes is The Paperboy directed by Lee Daniels, who you may also know from the movie Precious. This movie could be a contender for a big screen debut next year. The cast boasts a talented roster of actors including Matthew McConaughey, Nicole Kidman, John Cusack and Zac Efron.
One of our favorite parts of the French Festival is the fabulous fashion arrivals. Here's last Wednesday's debut of Diane Kruger.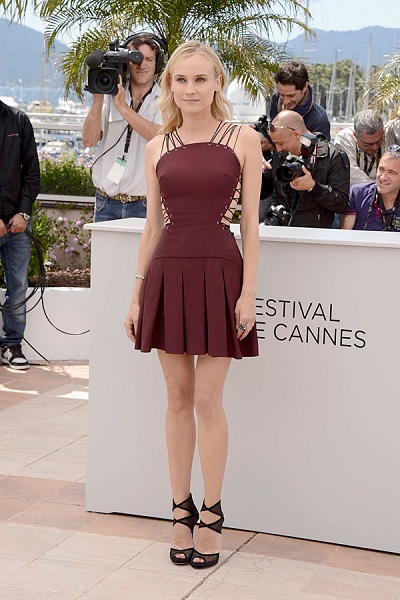 The German actress wore a deep burgundy Versus mini-dress, which featured several grommet-string embellishments.
We can't wait to share more exciting arrivals and movie reviews!