One of my favorite movies of all time, "Marie Antoinette", came to life as Karl Lagerfeld debuted Chanel's 2012 cruise collection at the Versailles Palace in France. Drawing directly from the history of the palace and it's inhabitants years ago, the entire line was reminiscent of Versailles' hey day, pairing dark colors with frilly, girlish details.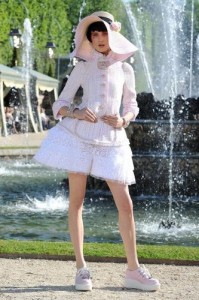 What amazed me the most about the front-row shots of the collection was Chanel's use of platform sneakers on nearly half the models! The sneaks were an interesting twist, giving the outfits a very modern and futuristic feel. Many of the dresses were then accompanied by big floppy sun hats, a major summer trend appearing already in the States.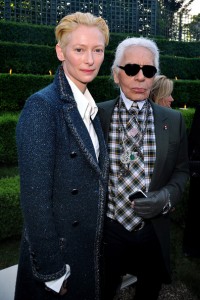 Celebrity appearances were made by Blake Lively (of course!), Vanessa Paradis, Rachel Bilson, and Clemence Posey. Many of these ladies donned pieces from Chanel's 2012 Haute Cotoure Collection. Other familiar faces included Rihanna, Cameron Diaz, and Tilda Swinton, who posed numerous times with Mr. Lagerfeld throughout the evening.
Hot celebs and fabulous clothes all taking place in the picture-perfect Versailles Palace, what could be more dreamy!?