How Many Calories Are in a Salad?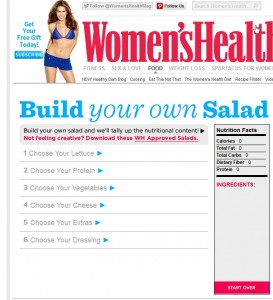 I know that a lot of people enjoy eating salads from time to time to try to cut back on calories or just for the convenience factor. Sometimes I eat salads when I really don't feel like cooking. So what if there was a way for you to REALLY find out how many calories your salad contained?
While browsing the internet, I came across the Women's Health Magazine website and they have a "Build Your Own Salad" app on their website. The possibilities are endless. I love it!
They give you 6 options:
Choose your Lettuce
Choose your Protein
Choose your Vegetables
Choose your Cheese
Choose your Extras
Choose Your Dressing
Step 1: Choose your Lettuce-Romaine, Spinach, and/or Arugula
Step 2: Choose your Protein- Grilled Chicken, Fried Chicken, Tofu, Tuna, and/or Egg
Step 3: Choose your Vegetables- Cucumber, Tomatoes, Alfalfa Sprouts, Peppers, Broccoli, Mushroom, Corn, Carrots, Onions, and/or Avocado
Step 4: Choose your Cheese- Feta, Blue, Mozzerella, Cheddar, and/or Goat
Step 5: Choose your Extra-Cranberries, Almonds, Sesame Seeds, Croutons, Olives and/or Strawberries
Step 6: Choose your Dressing- Italian, Balsamic, French, Ranch, Lemon Juice, Olive Oil, Vinegar
I even made my own salad! I used Romaine lettuce, tuna, egg, cucumber, broccoli, alfalfa sprouts, peppers, and olive oil.
Calories: 504.1 | Total Fat: 31.3 | Total Carbs: 8.6 | Dietary Fiber: 4.4 | Protein: 33.7
Yes, my salad has a lot of fat and protein, and it works for my diet because I spend a lot of calories training daily and I know if I eat carbs they'll go straight to my stomach, leaving me with that desired FULL sensation.
Give this app a try at http://www.womenshealthmag.com/nutrition/build-your-own-salad, come back, and leave us a comment about how your salad measured out.