COVERGIRL 24 Hour Outlasts Summer Jam!
Last Friday, First Class Fashionista attended KS 107.5's annual Summer Jam in Denver, CO. Like every year, the amphitheater was filled with thousands of people. Of course, being a fashionista, I spent almost two days preparing for the event. I bought a brand new outfit and made sure I stopped by the salon to get my hair and nails done. I needed to be flawless if I was going to be seen by old and new friends, as well as artists like Wiz Khalifa! Luckily this year, I had one less stop to make because my new COVERGIRL makeup had arrived just a few days earlier.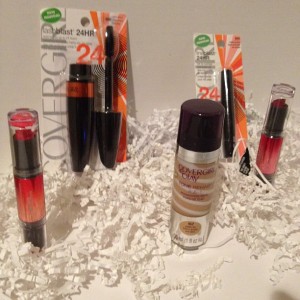 As a COVERGIRL ambassador, I thought it was a perfect night to test out my new 24 hour makeup!
I put on my COVERGIRL+ OLAY TONERREHAB 2 in 1 Foundation, the new LASHBLAST 24 HOUR MASCARA, LINEBLAST 24 HOUR EYELINER, and finished the look with my Blast Flipstick! The concert was held at one of the largest outdoor venues in Colorado and with summer quickly approaching (and the amount of people!), it felt like it was well over 90 degrees outside. In the heat, I jumped and screamed at the top of my lungs…I quickly sweated out my hair and I could only imagine what my makeup was going to look like when I got back to my hotel. To my surprise, when I returned to my room and looked into the mirror, my makeup was still flawless and it hadn't run down my face as I expected. As my girlfriends re-applied their makeup for another hour preparing for the after party, I touched up my hair and got to relax for a majority of the time! I am not sure if the CoverGirl LASHBLAST 24 HOUR MASCARA and LINEBLAST 24 HOUR EYELINER will pass the 24 hour test because I'm simply not brave enough to try it! But it sure did survive the 90 degree weather, my constant screaming and jumping, and a long night of dancing afterwards!
The Giveaway:
To celebrate makeup that lasts, First Class Fashionista is hosting a COVERGIRL giveaway! One lucky winner will receive a COVERGIRL+ OLAY TONERREHAB 2 in 1 Foundation, a LASHBLAST 24 HOUR MASCARA, a LINEBLAST 24 HOUR EYELINER, and the Blast Flipstick. This giveaway will run from 6/15/12 to 6/25/12 and is open to all US residents ages 18 and older. Click HERE for complete rules.
To enter like First Class Fashionista's FB fan page http://www.facebook.com/firstclassfashionista and the COVERGIRL fan page: http://www.facebook.com/covergirl, then leave a comment below sharing your favorite COVERGIRL story.
For 1 additional entry each:
1. Follow us on Twitter @FCFashionista and @COVERGIRL and tweet: @FCFashionista I want to win the COVERGIRL 24 HOUR giveaway http://tinyurl.com/72ykpqt
2. Tumble it. Post the giveaway on Tumblr and link back to the giveaway.
3. Pin it. Pin it on Pinterest.
For 2 additional entries:
4. Blog it. Blog about it and link back to the giveaway. Blog must be established.
This promotion is in no way sponsored, endorsed or administered by, or associated with, Facebook, Twitter, Tumblr or Pinterest. We hereby release these entities of any liability. Winners will be contacted by email after the giveaway ends. Good Luck Fashionistas!
Disclosure: This is a product sponsored post. Regardless, I only recommend products or services I use or have used personally and believe will be good for my readers. I am disclosing this in accordance with the Federal Trade Commissions 16 CFR, Part 255 Guides Concerning the Use of Endorsements and Testimonials in Advertising.