The 36-year-old actress was spotted in Beverly Hills rocking a short hair-cut.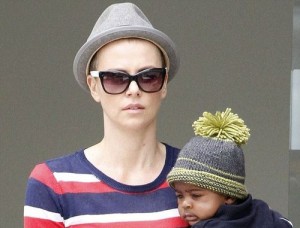 With her precious son Jackson in tow, Theron was dressed in a casual outfit as she ran errands earlier this week. What would have been a normal sighting caught photographers by surprise when they noticed that Charlize was rocking quite the new do. It turns out, the actress has completely shaved her blond locks for her up-coming role in Mad Max: Fury Road.
This isn't the first time a female celebrity has opted to shave their hair for a movie role. In 2005, Natalie Portman took it all off while on-screen for her part in V for Vendetta. The role received quite a bit of attention because of her authenticity of her character portrayal. Even earlier in 1997, Demi Moore shaved her head to play Lieutenant Jordan O'Neil in G.I. Jane.
What are your thoughts on celebrities who shave their head in the name of movies? Do you think it adds to their character or just leads to a lengthy time of growing back their locks?