First Class Fashionista would like to invite you to shop:
Discount Designer Clothes
Discount Designer Shoes
Discount Designer Handbags
*BOOKMARK THIS SITE for Updates* Gossip Girl Recaps
Here is where you can tell fans what you think. Your opinion matters. Share a comment with thousands of visitors. *Copyright Protected. First Class Fashionista permits a direct link and credit.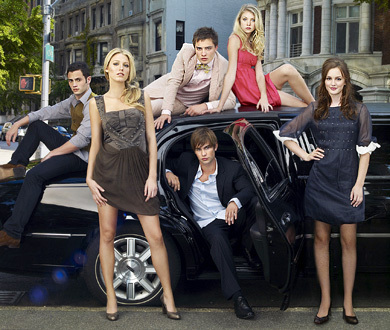 Gossip Girl "The Ex-Files" Season 2 Episode 4 Highlights
Occasion: First Day of Senior Year
Serena's On Top:
Both Serena and Dan talk with their parent about the break-up. Serena's mom says, "You broke up? I didn't even know that you two were back together again. Yes, we (the television audience) practically missed that too! This season Dan and Serena are definitely incompatible.
Dan's father tells him to be honest with where he and Serena are at. So on the first day of school it's awkward between Dan and Serena as they try to avoid each other. Blair tells Serena that "whoever dates first wins and with Dan Humphrey-You win buy default!" It's never that easy. Next scene, Dan meets a new girl. Her name is Amanda… he asks her out (game on).
Serena gets bold and attempts to have a face to face talk with Dan about the awkwardness and being friends. "Let's fast forward the awkwardness and be friends. Let's go to lunch; friends eat lunch together?" The new girl, Amanda, appears. Dan has already asked her to lunch. Sorry Serena… It looks as though you lost this one.
The news gets back to Blair and her posse. She warns Serena that Amanda is Dan with Boobs.
Later, Blair runs interference and attempts to befriend Amanda. She invites Amanda to lunch which, of course, causes Dan to be stood-up. At lunch, Blair explains to Amanda that since she is going to be hanging out with them, dating someone's Ex is frowned upon. Serena, however, feels bad for Dan and she tries to apologize but Dan doesn't exactly accept her apology. He tells her that they new that it would be awkward and sad; not competitive. Dan's attitude insults Serena…So she says, "If it were a competition, I wouldn't need Blair and her posse!
"I don't like bullies," says Amanda. That night, Amanda and Dan show up together at the club where Serena and her friends hang out. This seems to be a declaration of war! Keep reading…it gets juicier! Serena is upset when she confronts Dan. "You used another girl to embarrass me in front of my friends. I love you but just because we broke up doesn't mean that I can just turn it off like that. Let's meet…the three of us."
At the club again…Needless to say, it's awkward between the three of them. Then it happens! Chuck mentions something about a nair-tini. I couldn't figure it out at first. I thought he said a n-tini. The concoction was thick. It looked as if lotion or yogurt was in the mixture, which was unexpectedly thrown into Amanda's hair. She screams, pulls at her hair, and shockingly her hair is coming out by the handful. I'm thinking how mean and down right viscous! But wait…we find out later that Chuck paid Amanda to participate in his old 9th grade prank- JUST TO TAKE BLAIR DOWN. How you ask? When Serena realizes what has happened to Amanda, she takes her clique back. Now Serena's on top and everything has to go through her first!
Blair and Lord Marcus:
Katherine tries to pay Vanessa $5,000 to stay away from Nate but later Vanessa spies Lord Marcus and Katherine, his step mom, kissing passionately. Vanessa snaps a cell phone picture and later discusses this new information with Dan. What should she do? Dan tells her to consult Blair (we think of all people). Vanessa does but she doesn't trust that Blair will do anything because she later sees her holding hands with Lord Marcus at lunch. At this lunch, however, Blair reveals what she knows in exchange for Katherine's silence, leaving town and paying off the Archibald debt! Vanessa contacts the Duke and ruins everything! The deal is off.
After reading, don't forget here is where you can tell fans what you think. Your opinion matters. Share a comment with thousands of visitors. *Copyright Protected. First Class Fashionista permits a direct link and credit.