The Amazing Spider-Man duo, Emma Stone and Andrew Garfield, hit the road in style to begin their European premiere. The recent MTV trailblazer winner has been receiving major attention for her fashion-forward red carpet looks.
The actress opted for a floral lace dress by Dolce & Gabbana for her Madrid premiere. The beautiful cream dress featured embroidered detailing and a puffed sleeve. She paired the dress with a taupe Stiletto and demure pinned curls. During a photo-call Emma slipped into something with a little more va-va-voom.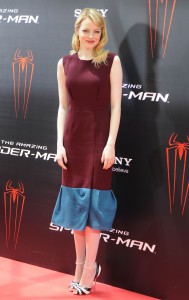 The Roksanda Ilincic dress featured a two-tone burgundy and teal pairing. The dress creased at the waist and ended right below the knees, while darts made for a more fitted bodice. Emma went for a deep red lip and black and white striped Christian Louboutin sandals to finish the look.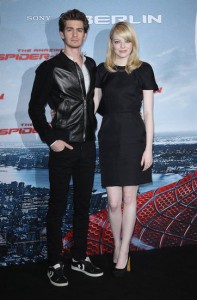 During their Berlin photo call, Emma wore a little black dress by designer Martin Grant, which she coordinated with co-star Andrew Garfield. he on/off screen couple looked sleek in their all-black attire.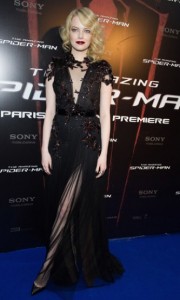 While at the Paris screening, Emma channeled her inner Victorian in a dark black gown from the Fall 2012 Gucci collection. A deep-V neck was lined in sheer mesh and delicately beaded to the neckline. The gown was cinched at the waist and featured a dramatic side-slit.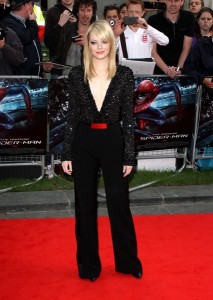 Emma continued the deep neckline trend in London, wearing a beaded black jumpsuit by Elie Saab. The jumpsuit silhouette was encrusted with glamour. The addition of a gold metal belt separated the look, making it appear as a two-piece ensemble.
With her European tour already coming to a close, we're excited to see what style Emma will have in store for her U.S. debut!
The Amazing Spider-Man will hit theaters July 3rd.