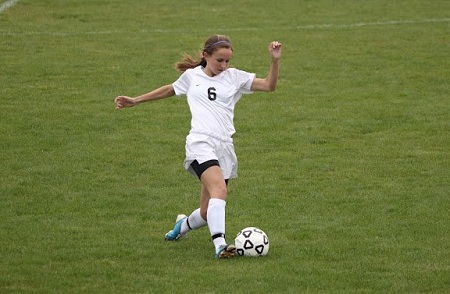 As a Glam Correspondent, I was asked to write about a teen that I knew was out making a difference in her community. One person came to mind: my cousin Lauren.
She's going to be a junior in high school next year and for the third summer in a row, she will be coaching youngsters in a Victory Soccer Camp! Lauren has been playing soccer since she was a youngster herself, and has grown into an amazing player. Hoping to make her varsity team this coming school year, she will be sharing her knowledge, time, and skills with kids ages 5 to 6 during a three week camp at the Schoolcraft College in Livonia, Michigan. Lauren's old soccer coach got her and some of her teammates involved with this soccer camp and she says her "favorite part is getting to know the kids and helping them develop their skills." Giving up valuable pool time to any other teenage girl, Lauren can't wait to get out on the field and show these kids how it's done!
Lauren is making a change in children's lives this summer, and Neutrogena® says you can too! Neutrogena's Wave for Change® campaign is able to provide hope for kids through education, the protection of our planet, and rebuilding lives around the world with our help! Video's on the Wave for Change® website feature Brand Ambassador Hayden Panettierre getting women around the country pumped up for the cause! For every video view counted, Neutrogena® will donate $1 to Global Giving, a program dedicated to improving the lives of children around the world. For more information or to watch the video, visit www.GlobalGiving.org or www.facebook.com/Neutrogena!
Brand Statement:

Now you can also help make a difference by just one click. For every Wave for Change® video view at Neutrogena.com/waveforchange or on Facebook.com/Neutrogena, Neutrogena® will donate $1 to GlobalGiving to support U.S. educational charities. Watch. Donate. Share. Any Neutrogena® Wave for Change® video views on Neutrogena.com/waveforchange and on Neutrogena® page on Facebook 7/1/12-8/31/12 will activate $1 donation to GlobalGiving. Neutrogena® will kick-off Wave for Change® with $100K donation. Then, for each eligible video view, Neutrogena® will donate for a maximum of $130K. For more information about GlobalGiving, visit GlobalGiving.org.
Disclosure:
Compensation was provided by Neutrogena® via Glam Media. The opinions expressed herein are those of the author and are not indicative of the opinions or positions of Neutrogena®.