Tom Cruise and Katie Holmes' Scientology Split: Is Katie Being Followed by Scientology Investigators?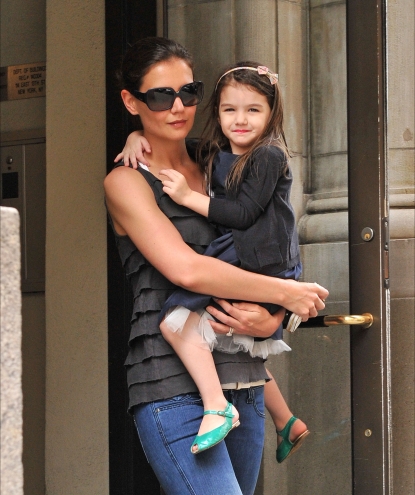 Katie Holmes doesn't want Suri to become a Scientologist; which is said to be considered a threat to the views of the Scientology organization. There are reports that Katie believes the Scientology investigators have been following her every move in New York City.
On the other side of this story, Katie and estranged husband Tom Cruise are getting a divorce! The divorce is due to "irreconcilable differences" between Tom and Katie. This is the reason why Katie has not been staying under the same roof as Tom. Paparazzi who have recently photographed Katie has come forward to say there have been mysterious vehicles following her while she has been out in NYC and in her apartment. A white Cadillac Escalade and a black Mercedes SUV have been seen near her apartment. If Katie goes through with the divorce in New York, sole legal custody is usually awarded to one parent when there is conflict. Katie wants sole custody of six-year-old Suri because she will then be able to make decisions such as religion and schooling.
Tom is planning on filing for divorce in California for joint custody. The Sun quotes, "There is no way he is going to let Katie have sole custody." Tom and Katie have not been seen together during this time. Tom stayed in The Greenwich Hotel for a few days around June 10th to film a movie. Never once did anyone see him go near Katie's apartment. However, Katie brought Suri to visit Tom at his hotel. The visit was said to be unplanned.
According to a source close to the couple, one of the main reasons Katie Holmes and Tom Cruise are splitting is due to the regular arguments over Cruise's family. His mom, sister and her kids lived in the same mansion as Tom and Katie. "Katie has felt suffocated at times," says the source. Katie mainly wants Suri to be able to make her own decisions in life, including religion…Katie is not against Scientology. She just doesn't want Scientology to be Suri's everything, like it is for Tom.
When Katie met Tom, she stopped seeing her friends; she was overwhelmed by his fame and couldn't believe her luck that he was enamored with her. A friend of Katie noticed she was not the same person she used to be before she met Tom. Katie didn't have her own opinions, all she talked about was Tom. She didn't have anyone else in her life, but Tom and Suri. She had lost herself to him and he had control of her.
The divorce goes to show that Katie has searched to find the strength to move on and regain who she is without Tom. If members of the Scientology organization don't stop following Katie, they may help her gain sole legal custody—That is, if they are following her.
This may not even be the Scientology organization following Katie, these people could be from another publication. TMZ called the Scientology organization to hear their side of the story… no word back.