Rap singer Pitbull, aka Mr. Worldwide, needs your vote to go to Kodiak, Alaska!!! You heard the lyrics in Pitbull's song "Give Me Everything". He says, "take a picture of me with a Kodak," well now you can. It's an online campaign with Walmart locations competing to get as many Facebook "likes" as possible so they can have Pitbull visit their city's local Walmart. Pitbull is participating in this campaign as part of a promotion with Walmart and Energy Sheets Brand.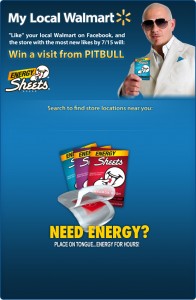 According to a source, this campaign was the funny idea of a writer from The Boston Phoenix newspaper to send Pitbull to the most remote Walmart possible. So far, it looks like Kodiak, Alaska may be that lucky Walmart. As of Tuesday, July 3rd, the Kodiak Walmart is significantly leading in the contest with 55,049 "likes" on Facebook. According to the 2010 census, Kodiak, Alaska has an estimated 6,300 people; this goes to show how many people want to see Pitbull own up to the name, Mr. Worldwide.
We've heard Walmart spokeswoman Sarah Spencer announce that Walmart shoppers have until July 16th to get as many "likes" for their local Walmart to pull ahead of the Kodiak, Alaska Walmart here: http://www.facebook.com/Walmart2711. Reportedly the Walmarts in Arkansas and Texas are doing very well within this competition. However, it appears Pitbull is looking forward to seeing his hometown Walmart in Miami win the contest. As of Monday, his home town Walmart only has 569 "likes" on their Facebook page.
Weather you approve of the plan to send Pitbull as far as Kodiak, Alaska or you would like to see him in your local Walmart. You better get in your "like" to that Walmart's Facebook page.
If you want to send Pitbull to the land of crab, salmon and grizzlies "like" the Kodiak, Alaska Facebook page. Remember he might need some bear repellant, and the Kodiak, Alaska Walmart does carry it and it's probably on sale!!!