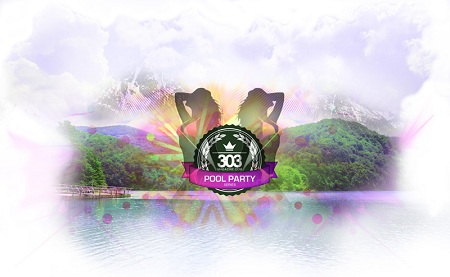 With record-breaking temperatures this summer, Sunday, July 1st, First Class Fashionista had the opportunity to cool off at 303 Magazine's 5th annual Summer Pool Party Series. This year, to our surprise, the event was held on a private lake in Milliken, CO. Thousands of people road-tripped from all over the state to party on the lake with 303. However once party-goers did arrive, due to the larger venue, they were probably relieved that they didn't have to wait in an extremely long line to get in like last year.
If you're not the beach/lake type, don't worry there was a pool area as well. Partiers were able to keep cool in the pool or on the lake with several types of floats. The cabana float was a big hit. If you love water sports, wakeboarding was the activity for you. There were 3 bars that covered both the pool area and both ends of the lake. And if you were starving after the long drive from Denver, like I was, 303 thought of that too. There was plenty of food! Upon arrival, 303 also gave everyone free Bacardi sunglasses—in case you left yours at home! If you missed the first "303 Magazine Pool Party" this summer, you definitely missed out. Stay tuned for the next 303 Magazine Pool Party date this summer at http://303magazine.com.
See you there! Til' then, enjoy the pics.