Yesterday designer Ralph Lauren unveiled his official US Olympic ceremony uniforms! The looks were shown off by athletes Heather Mitts and Tim Morehouse during Tuesday's segment of the Today Show. The outfits are very customary of the Ralph Lauren label and evoke a certain level of classic sophistication. According to the brands VP, the looks are very reminiscent of the 1948 Olympic games which were coincidentally held in London. We personally love the traditional attire and we see many trends, including the double-breasted blazer which was featured on the Fall '12 runways. Ralph did a fabulous job of conjuring up the nostalgic elements within each piece while keeping the designs current.
The women's garments feature a white on white pairing of a knee-length skirt and blouse. A fitted blazer is embellished with RL's signature big pony logo and holds in place a patriotic striped scarf, which is tied at the neck. A pair of crew-cut socks and white oxford flats polish off the look.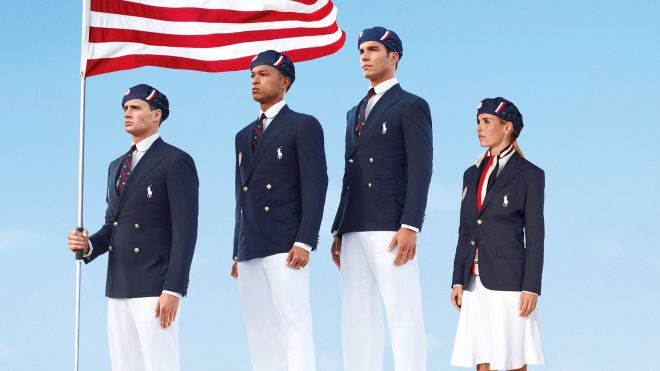 The men's uniform is comprised of a double-breasted blazer and white trouser pants. A club-collared sports shirt is paired with a red, white and blue necktie which complete the dapper-looking ensemble.
In addition to their patriotic attire, the athletes will don a navy blue beret with RL's logo and signature striping. The infamous cap was seen in the 2004 Winter Olympics and proved to be quite popular among US patrons; selling out in a matter of minutes.
However, dressing like the US team will cost you a pretty penny! The stylish blazer's will run you $600 for the women, and $800 for the men. That's not all the news sparked by these uniforms, the over-seas production of the garments has more than a few people questioning how "American" they really are…
What are your thought on the 2012 Olympic Ceremony Uniforms?