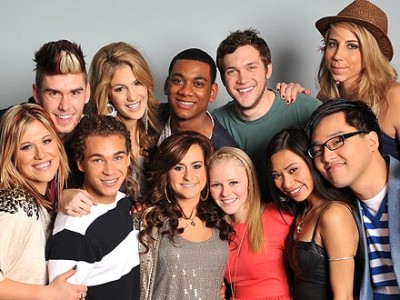 Do you love watching American Idol? Well now you can see all your favorite idols live! The top ten American Idol finalists are anticipating your appearance to see them during their first tour. Chips Ahoy! and Ritz Crackers proudly present the American Idol tour 2012 to the general public in many local cities. To help promote the tour, the brands will be offering cookie and cracker coupons in interesting and unique ways. The U.S. Air Force Reserves is also an associate sponsor of this exciting event. Get this, not only will you be able to feel the beat and lyrics live, but one dollar to every ticket purchased will be donated to The Heart Foundation to help save lives. If that isn't enough, American Idol Live will be giving opportunities for you, the fans, to get up close with your favorite finalists!
For all you fashionistas out there come see: Colton Dixon, DeAndre Brackensick, Elise Testone, Erika Van Pelt, Heejun Han, Hollie Cavanagh, Jessica Sanchez, Joshua Ledet, Skylar Laine and of course our very own American Idol Phillip Phillips as they explore where their music can take them. The tour started in Detroit, Michigan on July 6th and ends September 11th in Milwaukee, Wisconsin, and will be here in Broomfield, Colorado at the 1stBank Center this Saturday, July 14th. Don't delay! Tickets are still available at www.Americanidol.com, www.ticketmaster.com, and www.aeglive.com.
Iain Pirie, President of 19 Entertainment said, "Every year we are amazed at the extraordinary untapped talent that is discover on American Idol and we couldn't be happier with this season's top 10 contestants."
Phillip Phillips told ABC News Radio how excited he is to see the whole country. "I've never been to different states or anything like that. All I'd been to is Georgia, Tennessee, North and South Carolina, all the really Southern states. So I'm really, really excited to see the whole country and just take a bunch of picture!"
Runner-up Jessica Sanchez is excited to be able to sing the songs she wants to sing. Jessica said, "It won't be all ballads, at all. So, I'm excited to just have fun and dance with all my fans."
Colton Dixon is excited to rock out behind the piano in front of a huge audience. He will be performing an original song called "Never Gone." Reportedly he can not wait to show his fans what he has been working on within the studio.
The American Idol finalists are excited to personally thank their fans for the support and commitment that helped make them the top ten American Idol finalists. They are also looking forward to singing without the criticism of their performances by the judging panel. First Class Fashionista is thrilled about this upcoming event and looking forward to covering the tour live at the 1st Bank Center. We hope to see you there!