The teen-powered girl-group SPARK has come together once again to take on Teen Vogue. After receiving a public dedication from Seventeen Magazine to feature healthy "real" young women, the group has taken to New York to achieve their next goal!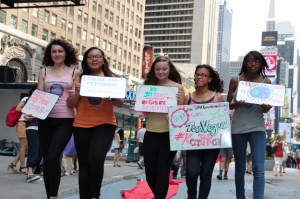 At the forefront of the cause is 17-year-old Emma Stydahar and 16-year-old Carina Cruz. The two young women have joined together to target magazines which have been "bombarded [with] images that have been distorted and digitally altered in Photoshop."
The group has quickly gained notice throughout the United States for their tenacious attitudes and desire for change. As I write this, SPARK set a goal to reach 35,000 signatures and had already achieved a whopping 30,685.
With their Seventeen magazine success, the group has taken their cause to Teen Vogue headquarters in New York. However, after staging a mock fashion show and talking with editor-and-chief Amy Astley, the outcome has been less than perfect.
The two young women explained. We walked in, there was no handshake, no "my name is", none of that. Just "you sit here, you sit there. So you wanted this meeting – what do you want to say?" They continued, "We said what is in our petition…They proceeded to take out handfuls of magazines with little Post-It notes in them, [marking] what they perceived to be diverse images."
Although the meeting did not go as planned, the girls say they will continue to peruse their efforts to get "real" girls in publications directed a teens!
Read more at www.suntimes.com