American Idol Live Tour Review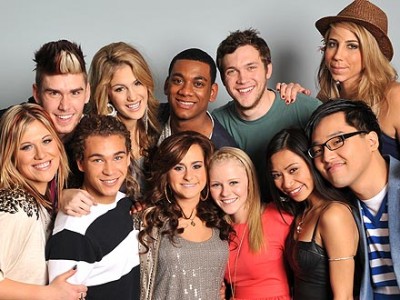 The American Idol Live! Tour at the 1stBank Center in Broomfield, Colorado on Saturday, July 14th, was absolutely amazing! For any "American Idol" fan to be there it was like winning the lottery! Not only did First Class Fashionista get to attend the show, but we got to meet the finalists, ask interview questions and get autographs.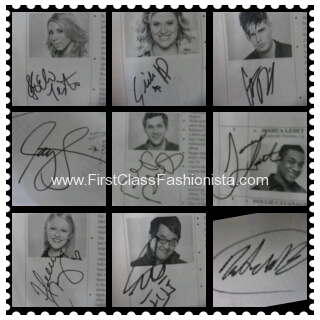 Here's What Happened!
During the show the top ten finalists came on stage and they performed "Sing" by My Chemical Romance and "Just the Way You Are" by Bruno Mars all while sporting bright colors and striped t-shirts. Together, DeAndre, Elise and Erika performed "Rumor Has It" by Adele. DeAndre Brackensick also performed "Master Blaster" by Stevie Wonder. Colton Dixon showcased his musical talents with his execution of the "Piano Man" by Billy Joel, "Meant to Live" by Switchfoot and his original song "Never Gone". He explained how amazing it was that he was on stage this year; when last year he was in the audience.
Phillip Phillips sang "Superstition" by Stevie Wonder, his original song "Home," and teamed up with Jessica Sanchez for a duet. "Volcano" by Damien Rice was on fire. Elise Testone paid tribute to Led Zepplin with her raspy rendition of "Whole Lotta Love". Erika Van Pelt performed the nerve rattling hit "Glitter in the Air" by Pink. Joshua Ledet brought the audience to their feet with his unique version of "It's a Man's Man's Man's World" by James Brown. Skylar Laine went after her own idol, Miranda Lambert, by performing "Gunpowder and Lead". For the lovers in the audience, Hollie Cavanagh served up Demi Lavato's "Give Your Heart a Break". And, Heejun Han performed the all famous hit "Party Rock Anthem" by LMFAO with DeAndre and Jessica.
The Interviews:
After the show First Class Fashionista got pictures and autographs from the finalists. We also got the answers to our burning interview questions.
We asked Jessica Sanchez who her idols in the business were. She replied, "Beyonce, Etta James, Whitney Huston and Michael Jackson.
Joshua Ledet told us Michael Jackson is an artist that inspires him.
Hollie Cavanagh said her favorite part of American Idol was "the whole thing!" She is hoping good things will happen after the tour within her music career.
Elise Testone described her fashion style as "bohemian". We also asked her what advice she would give to someone looking to begin a career in the music industry. She answered, "It is always good to learn an instrument and never give up on your music."
We asked Colton Dixon a question we thought all you Fashionistas were dying to know. Where does he get his hair done! He answered, "I get my hair done by Nick Hanes at "What's New the Salon" in Tennessee and I use Paul Mitchell hair products."
DeAndre Brackensick was asked who he would like to collaborate with; he answered, "Patti Labelle and Erik Lamela."
We asked Heejun Han has anyone from American Idol taken your sense of humor the wrong way? He answered, "No, we're all family." We also asked him what advice he would give to someone pursing a music career; he answered, "believe in yourself".
First of all Erika Van Pelt looked even more amazing in person with her hair cut short. We got the chance to ask her how her life has changed since American Idol. She replied, "My life has changed in every way. I was on the other side of the fence a year ago. She is looking forward to releasing a single.
The Review:
To wrap up an amazing event and tie it with a bow, I would have to say the American Idol finalists are all real down to earth people. They still know what it's like to be on the other side of the fence and haven't let fame change who they are. They saved the American Idol winner Phillip Phillips for the end of the show—during the last performances. I would have to say he was worth the wait. This event was a Hollywood production on a Broomfield stage!
First Class Fashionista would like to thank Sarah, the director of the 1stBank Center, for making all this happen for us. Leave comments below telling us who your favorite American Idol finalist is and what you love about them. Enjoy the pics!