The Backstreet Boys are back alright!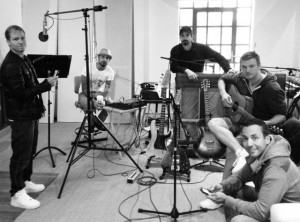 With their first reunion show scheduled for August 31st, the 90's teen sensation is back and better than ever! The band made their announcement on Good Morning America Tuesday from their London recording studio.
"It's our first time in the studio together, all five of us, since 2005," Howie Dorough told GMA reporters.
However, the guys from BSB are no longer boys and have all embarked on different paths since taking a break the limelight in 2011.
In an interview with MTV, band-member Kevin said, " We all discussed, we want this to be a personal record." He went on to explain, "We want it to be authentic to us and who we are and where we're at in our lives. … We want to talk about the things that are relevant in our life, and we want to be authentic and make a great record that we're proud of, and that's kind of where we're starting."
With a clear vision and direction on where they would like to go; Brian, Nick, Howie, Kevin and A.J. are ready to release an album come Spring. The album's 2013 release will mark the band's 20th anniversary since their first debut in 1993! With a highly-anticipated performance looming in the distance, the band will be spending all of their time in the recording studio! We can't wait to see what BSB has in store for us!