Oh my! Did you see what Lady Gaga was wearing in her new perfume ad? Making headlines as usual, Lady Gaga bared it all for her new fragrance Fame. This certainly is not the first time Lady Gaga would stun the nation with her controversial fashion sense.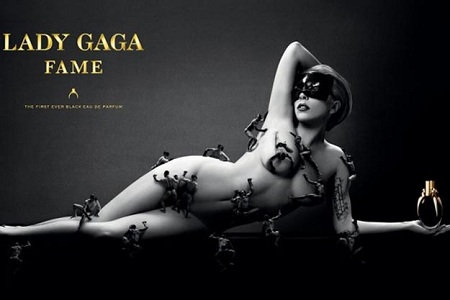 Wearing nothing but a black mask, she lays sideways holding her fragrance with tiny men climbing all over her body. Steven Klein, the photographer of this black and white photo, has also shot Madonna. Madonna, on the other hand, seemed to know her limits when it came to exposing it all. Klein also worked with Lady Gaga on her "Alejandro" video back in 2010, and recently worked with Rihanna on her Armani campaign. Lady Gaga tweeted before the shoot, "I won't lie. I'm a bit nervous…It's been a while since I've shared some work with you. But I'm so proud of Steven [Klein]."
According to reports, last year in Australia Lady Gaga told the nation on "The Kyle and Jackie O Show" that her scent will smell like an expensive hooker. Mixed with a sample of her own blood, it's said to be like a feeling of having her on your skin. Her explanation for her scent, "is the sort of after feeling of sex from semen and blood." Shocking—I know.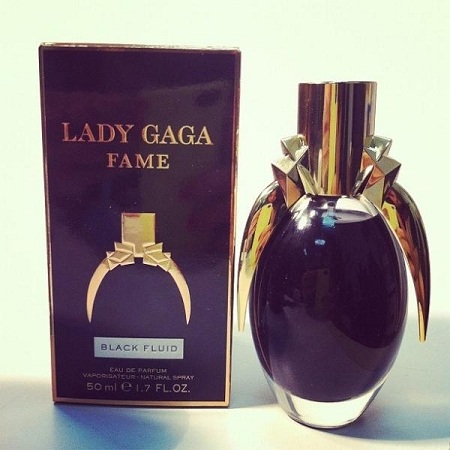 The First Ever Black Eau de Parfum turns clear once it is released from the black and purple bottle. The ingredients have been described as: "From the tears of belladonna, the crushed hear of tiger orchidea, black veil incense, pulverized apricot, saffron and honey drops."
The print campaign will be featured in the September issue of many major fashion magazines. Gaga will also be in a three-minute commercial to promote Fame before it hits counters in September. The fragrance will come in two sizes; the small sized bottle will be retailed at $30, and the large bottle will be sold for more than $70. For all you Little Monsters out there, her announcement for the name of her next album will also be announced in September.