Modern Nouveau: Fall Friperie Presentation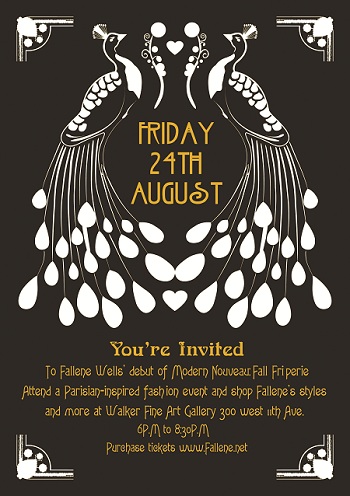 After producing and organizing five wildly successful Forever Darling fashion shows, Denver Designer Fallene Wells will host her first-ever solo presentation. The highly anticipated event will take place at Walker Fine Art Gallery and will showcase Wells' Parisian and 1930s inspired easy to wear, mix and match Fall 2012 collection, Modern Nouveau: Fall Friperie.
"I've always been in love with the stylish disheveled look of the newsboy from the 30s, my starting inspiration for this collection. I'm very happy with the outcome. It presents many possibilities, it's easy to wear and has a punch of personality," says Fallene Wells.
On Friday, August 24th from 6 to 8:30pm, guests will experience a fabuleux runway show set to music by DJ Matthew Brown, and the satisfaction of supporting and shopping local. Modern Nouveau, the I Heart Denver Store and Swank, a pop-up store, will have a great selection of beautifully crafted designs for sale. Swank is delighted to feature La Samara Studios, Kitty Mae Millinery, Ink Jewelry, Ru Fabricates and more.
A portion of the proceeds will go to Mile High Red Cross. Tickets are $35. For more information or to purchase your ticket today visit www.fallene.net. First Class Fashionista will see you there!!!
What: Modern Nouveau: Fall Friperie
Where: Walker Fine Art Gallery
300 West 11th Avenue
Denver, Colorado 80204
When: Friday, August 24th from 6 to 8:30pm
This article was also published at Examiner.com.