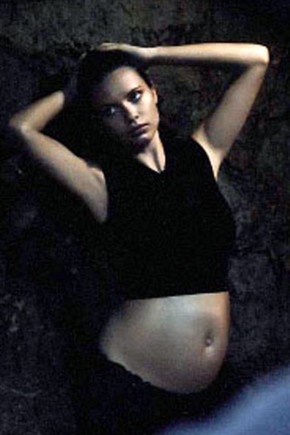 Well this is a first! Supermodel Adriana Lima has been known to push the boundaries and she's done it again. Shot in May, this iconic publication has featured fashions most notable beauties since 1964, but never a visibly pregnant one!
Photos posted on Italian Vanity Faire's website capture candid, behind-the-scenes shots of Lima flaunting her adorable baby bump. Lima and husband Marko Jarić announced they were expecting their second child back in March saying, "My favorite job in the world is being a mom and my family could not be more happy to announce this news."
The famous Pirelli calender was shot in beautiful Brazil this year. Normally known for its raunchy and wild characteristics, photojournalist Steve McCurry claims this calender will be "one for the soul" and feature more tasteful, high-fashion shots. Lead by McCurry, the 2013 calender will feature women in support of popular foundations, organizations, and humanitarian projects.
Featuring Isabeli Fontana, Liya Kebede, Kyleigh Kuhn, and of course Adriana Lima and baby, this year's Pirelli calender will be one to remember.