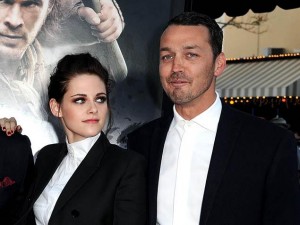 Twilight fans everywhere are shocked as allegations of an affair between Kristen Stewart and Director Rupert Sanders hit headlines! K-stew and her "Snow White and the Huntsman" director are in the midst of a major scandal. The rumor caught the attention of Us Weekly and People Magazine when photos surfaced displaying the two cuddling and kissing.
The scandal seems to be making waves for others involved as well. Sander's wife of 7-years, Liberty Ross, took to Twitter to voice her opinion. Ross, tweeted "Wow" shortly after following Us Weekly on the site, and quickly deactivated her account thereafter. The model-turned actress has been by her husbands side during the entire filming process, even ironically being casted as the mother of Snow White.
Some Twi-hard fans are saying that the photos are "doctored" and couldn't be real. Just last weekend Kristen Stewart and boyfriend Robert Pattinson appeared with all smiles as they accepted surfboards at the Teen Choice Awards. The pair even went as far as to coordinate their blue and black outfits! The reps for Kristen Stewart and Rupert Sanders have yet to comment on the alleged allegations.
The People and Us Weekly magazines will hit newsstands today.