Barrera International Spring 2013 Collection Preview & Trunk Show at Grant Humphrey's Mansion!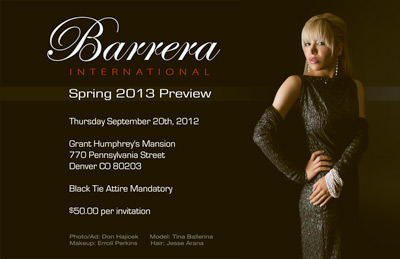 The Barrera International Spring 2013 Collection Preview & Trunk Show by Juan Jimenez will be presented Thursday, September 20, 2012. Using only the finest materials imported from France and Italy, this collection will showcase 35 of the most unique, one-of-a-kind garments for women. The fashion show will incorporate ready-to-wear fashion, signature evening wear for women and 10 piece looks for the menswear collection.
The presentation will be a surprise to all, because of the hand crafted gold embroidered Georgette, sequins, embroidered pearls, lace and luxurious Swarovski crystals. This amazing event is invite only (contact the designer for details). This night will show the finest works of Juan Jimenez to clients, boutique owners, media, fashion bloggers, and fashion stylists. First Class Fashionista is excited to cover this event, and see what Juan Jimenez has in store for Barrera International.
The Show:
Who: Barrera International
What: Spring 2013 Collection Preview & Trunk Show
Where: Grant Humphrey's Mansion 770 Pennsylvania Street, Denver Co.
When: Thursday September 20th, 2012 from 7:00-10:00pm.
Attire: Black Tie (mandatory), this means women: evening gowns or cocktail dresses. Men should be in a suit, tuxedo or evening jacket.
Cost: $50.00 per invitation. Email: sales@barrerainternational.com
Why: The Barrera International Spring 2013 Collection Preview & Trunk Show is benefiting the Denver Safe House. The Safe House will receive a large portion of funds from the inventions.
The Interview:
We interviewed the amazing designer. We asked Jimenez where he gained the inspiration for the show. He said his trip to New York was inspiring. Most of his fabrics come from France and Italy, which also gave him a sense of inspiration for the embroidery and embossment.
For everyone anticipating the show, we asked him what should be expected at the Barrera International Collection Preview & Trunk Show. He said, "You will all be completely surprised!" He's not revealing anything before the show, only the models will see and experience the garments before the collection preview.
Juan is currently attending Johnson and Wales University, majoring in Fashion Merchandising and Retail Marketing. He is learning as he goes with cuts and silhouettes within fashion design. He explained it as a trial and error process, but he is a perfectionist. When asked if he has had any mentors to help him design, he said his mom. She knows how to sew and has helped him gain experience. He also looks up to fashion designers like Christian Dior and John Galliano. Juan is a business oriented individual who started designing for the public in September. His first design was made during his sophomore year of college. It was during his marketing presentation that he made a sample, went to the fabric store, sketched the design and started creating. He said this experience gave him so much inspiration to become a designer.
We asked him what his favorite materials to work with were, he explained how fabrics are a major part of his designing process. He believes less is more and loves to work with the luxurious chiffon.
If Juan could design for any celebrity, he would choose Julianne Moore, she is his ideal client. When asked what fashion designer he would like to collaborate with, he said he would somewhat compare his style as a designer with the works of Valentino. Currently, Juan works for a luxury retailer and creates all his fashions within his own financial means. He is sponsored by a few companies, but a majority of the production is all him.
The short term goals of Barrera International are to become established. In the future, the long term goal is to move Barrera International overseas and around the world. Juan Jimenez does not aspire to become famous or rich. He simply wants to travel, have private clientele and design for high-end retail.
Within the Barrera International Spring 2013 Collection Preview & Trunk Show, his favorite piece within the collection is the Kelley Dress. This dress is described as a halter top, backless, long gown. This specific dress can make any woman look stunning.
Now that you've heard, Barrera International is anticipating your attendance at the show. Buy tickets now while they last or forever wish you did.
For more information email: Info@BARRERAINTERNATIONAL.com