I LOVE COUTURE 3rd Annual Fashion Show at Suite 200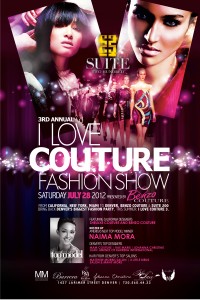 Get ready for one of the biggest nights in fashion! "I LOVE COUTURE 3" is anticipating their 3rd annual fashion event at Suite 200, presented by Benzo Couture and Lotus Concepts. Do not miss this show on Saturday, July 28th as the largest fashion event in Denver creates the party, and designers showcase their Spring/Summer 2012 collections. The event is hosted by Americas Next Top Model Cycle 4 Winner, Naima Mora. Fashionistas, get ready to meet celebrities and designers at this star-studded rd annual event.
Anticipated designers within the event are:
JUAN JIMENEZ (DENVER)
MAM COUTURE (DENVER)
JOHANNA CHRISTINE (DENVER)
RAE MARIE (DENVER)
BENZO COUTURE (CALIFORNIA)
SHELUXE COUTURE (MIAMI, ATLANTA, SAN FRANCISCO)
This public event is all brought together by Mercedes Ben, Juan Jimenez from Barrera International, Darren Dean, J Wakeen Mitchell, MAM Couture, Chris Mam-Couturelife Peters, Johanna Christine, Chanelle Nicole, Heather Leila M and Rae Marie Hurst. Additional creative talents for the event are Wilhelmina Agency Makeup Artist Ashley Smith and Mathew Morris Salon.
Doors open at 8pm, show starts at 10pm and lasts until 2am! Get this…21 and up, NO COVER! Bottle service is highly recommended. Contact: Suite 200- 1427 Larimer Street Denver, Co 80202 at (720) 560-4433 for your reservations or visit http://suite200.lotusclubs.com/reservations/bottle-service