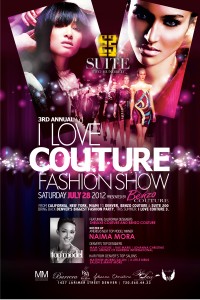 The 3rd Annual I LOVE COUTURE Fashion Show last Saturday July 28th, was absolutely phenomenal!!! Presented by BENZO COUTURE at Suite 200, the I LOVE COUTURE 3 Fashion Show was hosted by the very gorgeous and sweet Naima Mora. "First Class Fashionista" got the chance to chat with the cycle 4 winner of Americas Next Top Model before the show; we asked her about her experience on ANTM, how she got involved with I LOVE COUTURE and who her idols were within the music industry.
Interview with ANTM Naima Mora
Every designer anticipated to showcase their collection did, and with great success. Juan Jimenez of Barrera International was the first designer to show off his 7 elegant looks. Upstaging the runway was his embroidered evening gowns, long flowing sheer skirts, design details of deep front slits, asymmetric and cowl necklines, sequins, lace and floral print fabrics. His looks were very classy and sophisticated with detailed embossment and embroidery. The colors used within his collection were black, midnight blue, sky blue, white, smoky gray, champagne and gold.
M.A.M. Couture was the next clothing line up. The designers showed off their Cut & Sew collection with 12 looks. M.A.M. Couture's collection included graphic muscle shirts, chained necklaces, t-shirts, denim pants, camouflage denim shorts, low rise sweat pants, sweat shirts with moose print, fedora hats, flat billed hats, hoodies, denim vests, color blocked raglan, long sleeved shirts with three buttons down the center front, duffle bags and printed moose muscle shirts.
Choreographed to the hottest hip-hop music, the male models of M.A.M. Couture were "stunting" and showing off the line's swag as they made their way down the runway pulling up their loose fitting pants to the beat. The ladies pulled off men's inspired graphic scooped sweat shirts, dark boxer briefs with white trimmed edges, v neck t-shirts, moose print leggings and muscle tanks.
RAE MARIE introduced the audience to her sexy, edgy, chic style with her hot pink peplum top, black and white abstract print leggings and matching jacket. Her long sleeve floor length teal dress with embroidery at the bust and a slit in the center back was accessorized with a thin gold belt. Another look was the high waist, sophisticated pants that hit the ankle, pleated high waist skirt, spider web cut-out jacket, asymmetric black dress with a teal neck piece, high waist puff dress, neon yellow and black panel skirt with a vent in center back. Her black tent dress with sequins at the edges of the three layers was stunning with the wide neck band. Last, but not least, of her 10 looks was a floor length V-neck dress cinched at the waist with a wide black belt, this dress had striped cut-outs on the back.
After we thought it couldn't get any better, JOHANNA CHRISTINE came out with her uniquely, creative designs of printed fabrics, vintage styles, bold, colorful palettes and designs that accentuate the female form. She showcased her black knit cocktail dress, sheer blue asymmetric cocktail dress, floral print peplum separates that were made of high quality and dedication.
The presenters of the show, BENZO COUTURE showed off their hot pink lace cocktail dress, midnight blue peplum shirt with matching mini skirt, black collared sheer tent shirt with lace leggings and a bow tie shirt with cut-outs matched with a sexy black mini skirt. A sequined black tank with black knickers, asymmetric hot pink and black panel cocktail dress and an embroidered black blousy top were also featured pieces in this collection.
The night was filled with great music, dancing, exciting fashion and beautiful people. Featured accessories within the show were by SheLuxe Couture. People who helped make this night possible include, Matthew Morris Salon, Ashley Smith, Suite 200 and staff, James Studio, JODAJEN, Denver Dress Up, First Class Fashionista, Lonza Dennis, Marissa Lundeen, Patrick Dennis, Emily Mcbroom, R. Michael Photography, Ryan Mazrim for Ryan the Photographer, Vidhi Thakur Photography, Robert Rice Photography, Maurice Garner, Jwakeen Mitchell and staff, Dale Self Photos by Dale and Erroll Perkins from Neiman Marcus.
I Love Couture 3 Fashion Show video!

As a special guest of the I Love Couture fashion show, First Class Fashionista received a swag bag with a cute tank by Benzo Couture and a well-made, super cute skirt by the Fashion House of Rae Marie.
Enjoy the pics.