You text and surf the web with just the touch of your hand. Your phone is all dolled up with a colorful protective cover that sparkles in the sunshine. Don't you think it would make since that your phone would match your nails? You do use your finger tips to text after all…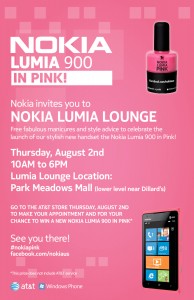 If that last statement explains your fashion related relationship between you and your phone. You are the perfect guest to be at the Nokia Lumia Lounge popping up in the Denver Metro Area Tomorrow, August 2, 2012.
Come enjoy the event celebrating the Nokia Lumia 900 with the limited edition of the Nokia Lumia Pink nail polish by Duality Cosmetic. The event will be held at the Park Meadows Shopping Mall from 10am-6pm. Do not worry about your nails as they will be taken care of by celebrity manicurist Kandi Banks and Niki Schwan, who have worked with Nicki Minaj, Demi Lovato, Janelle Monae and Drake.
You and your plus one are invited to experience an afternoon of free nail pampering full of unique styles from the inspired by the new Nokia Lumia 900.
Who: Nokia
What: An afternoon of free manicures and nail pampering!
When: Thursday, August 2, 2012, from 10am-6pm
Where: Park Meadows Shopping Mall
8401 Park Meadows Center Drive
Lone Tree, Co 80124
Why: You deserve this day… look at your nails, they are begging you to attend this event!
To RSVP: email Amy Freeland at
nokialumia@thisismission.com
Telephone: 303-882-6464
Follow Nokia on Facebook at http://www.facebook.com/NokiaUS