Pink was all you could see while walking into the Nokia Lumia Lounge, August 2, 2012. Just outside Dillard's at the Park Meadows Shopping Mall, women and girls (and a few guys) of all ages were lined up to get pampered by local professional manicurists and Kandi Banks. The polish used was the limited edition Nokia Lumia Pink Nail Polish by Duality Cosmetics.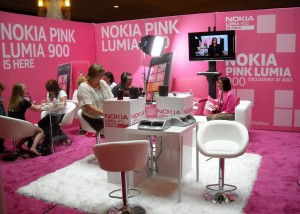 First Class Fashionista got her nails pampered by manicurist Lexi from Spa Divas Mobile Spa. My nails were painted hot pink. I choose from the three design styles; cheetah print, a lightening bolt or candy cane. I selected the candy cane, which was a series of four white stripes on the hot pink background. OMG my nails look gorgeous!
We also engaged in a fabulous interview with Kandi Banks.
At the young age of 21, Banks has done so much in life. She went to beauty school in Santiago and then studied Merchandise Product Development at FIDM in Los Angeles, California. Known for her innovative signature 3D ice cream nail art, Kandi is even looking forward to starting her own brand of nail polish. She has worked with celebrities like Nicki Minaj, Demi Lovato, and Amber Rose. To her credit, she worked with Nicki Minaj to create the fabulous nail designs featured in the Starships, Beez In The Trap and Stupid Hoe music videos. Banks also worked with Minaj on the set of the all famous Pepsi commercial featuring Nicki Minaj. Recently, she worked with Amber Rose on the set of the movie School Dance, produced by Nick Canon.
As special guests of the Nokia Lumia Lounge, First Class Fashionista not only received a free manicure from the Nokia Lumia Lounge and professional pictures in front of the Nokia Pink Lumia 900 step and repeat with Kandi Banks, but an explosive gift bag containing hot pink Nokia Lumia nail polish, a pink rubber wrist band that says 'NOKIA PINK LUMIA 900' and tons of pink candy! The Nokia Lumia Pink Nail Polish is amazing! It came with a nail file and nail polish remover all within the bottle.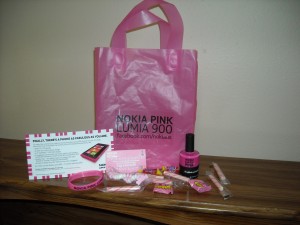 If you didn't get the chance to go to the Nokia Pink Lumia 900 event, follow Nokia on Facebook at http://www.facebook.com/NokiaUS for their upcoming events around the country.
First Class Fashionista would like to thank Kandi Banks for the amazing interview, Amy Freeland for producing an awesome event and all the local manicurists for the well appreciated pampering! Enjoy the fun pics!