Could there be a possible romance brewing between Demi Moore's Ex Ashton Kutcher and Mila Kunis?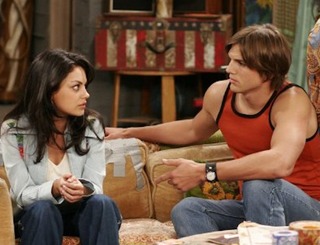 The two have been spotted several times, but continue to deny that any romantic is going on between them. This week the two were spotted arriving and leaving together from West Hollywood Hotspot Duplex. However, this wasn't exactly your romantic dinner date. The two were joined by 300 other guest for the official Jobs wrap party.
Other attendees included Lenny Jacobson, Lesley Ann Warren and Sean "Diddy" Combs. The rumored couple have been friends since their days co-staring together on "That 70's Show". Until recently, the two were both involved in committed relationships.
Mila Kunis previously dated child actor Macaulay Culkin, which lasted close to 8 years! As for Ashton his public split from actress Demi Moore came as a shock to many. However, it looks like the timing couldn't be any better for these two!