Natalie Portman and Benjamin Millepied are officially married! The couple exchanged vows over the weekend in a quaint California-style wedding. The two were married in the coastal region of Big Sur, where they wed under a Jewish Chuppah, complete with scenery overlooking views of the Pacific. The pair kept the ceremony light and beautiful, with natural colors and earthy elements.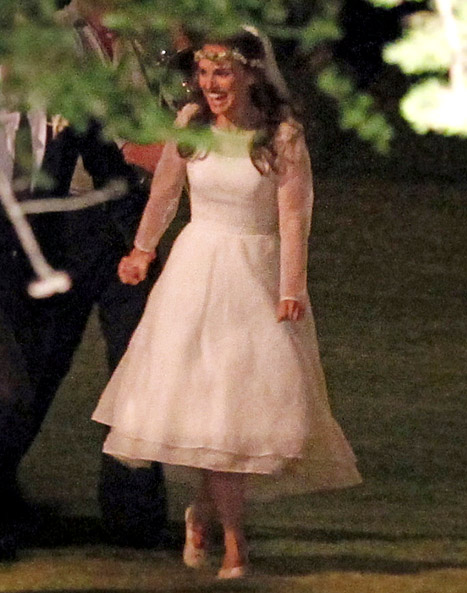 Portman dressed in a gorgeous Rodarte tea-length gown with sheer sleeves and floral appliqués. Her hair was wore down in natural curls, adorned with a veil crown of wildflowers that held the locks in place. The ceremony was celebrated with 60-100 of the couple's closet friends and family; including Rashida Jones, Mike Nichols, Ivanka Trump and Macaulay Culkin. Guests dined on an all-vegan menu, which coincided with Portman's stick diet.
Floral arrangements were made with local wildflowers and shared with attendees as wedding favors. Instead of the traditional wedding cake, the couple served macaroons to honor Benjamin's French roots.
The couple first met in 2010 while filming The Black Swan, and since became parents. Their son Aleph is one year old. We wish the family nothing but happiness in their future together!