Mouse over the Coach color swatch below, and you could be a winner…! Tag First Class Fashionista and we could be winners!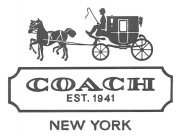 You are visiting a Coach ColorTag participating site! To celebrate the launch of the new Legacy Collection, inspired by the Coach archives and colors throughout history, Coach personally invited a few selected bloggers and their readers to kick off the online celebration with COLORTAG.
Mouse over the color, and you could be a winner! There's a hidden message that will say "Pass it on" or "You won". Visit often because Coach is giving away more than 100 gift cards, ranging in value from $100 to $500.
Love this site? Tag First Class Fashionista's color by using the swatch's sharing buttons to share on Facebook, Twitter, Pinterest and Tumblr. If FCF gets the most tags by August 31st, we will receive a $2500 Coach Gift Card. Second place and third place winners will receive $1500 and $1000, respectively.
Back in 2010 FCF participated in the Coach Poppy Project and you, our valued readers, helped make it a huge success! FCF ranked in the top 20 on Coach's leader board. Let's show off again, and we will all have a chance to win.
Disclosure: This is not a sponsored post.