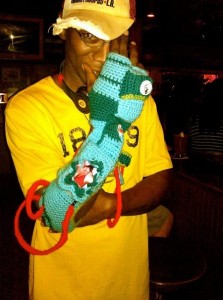 This Saturday, at New Culture Boutique, concludes a full week of high fashion events in the city of Denver. Denver Fashion Week will come to a close where it began, and the grand finale will showcase local designers Mona Lucero, Kotomi Yoshida, Raphael Kroshay, Kimono Dragon and Delicious Leather.
I got the chance to chat with one of the featured designers, Raphael Kroshay (brother to actor Taye Diggs), this week and I asked him some things about his one-of-a-kind crochet line and what to expect in his upcoming show that I will be attending.
EmilyM: Why crocheting specifically? Who taught you?
RaphaelKroshay: I would have to say fate. No other way I could see myself imagining this would be my career. It turned from hobby to career as I overcame self oppression. Mom taught me when I was twelve. One Christmas we were too poor to buy one another new junk. So mom taught us to crochet so we could make each other "real" gifts.
EmilyM: Awesome! you're product is unique and personal. Family has obviously played a big role in your career thus far. Are they big fans of the product?
RK: Yes my whole family has been a big source of support throughout the journey thus far.
EmilyM: Good man. Who have you worked with so far that has been especially inspiring, unique, or challenging?
RK: My brother, Taye Diggs has modeled for me before. His wife, my sister-in-law, Idina Mendel, has modeled for me as well.
EmilyM: Very cool. Would you say they stick out the most to you because they're a source of inspiration?
RK: Nope. "Creating from nothing" is my biggest inspiration. My brother and his wife were just interesting peeps to work with cuz they're "Hollywood"!
EmilyM: Who are you looking forward to working with in the future? A dream client of yours if you will…
RK: Any pro-snowboarder out there, guy or girl! Mos Def as well (The Hip Hop artist).
EmilyM: Awesome, you're in the right place to make that happen! What will you be showcasing on Saturday that our readers (mostly females mind you..) should look out for and get excited about?
RK: I will be showcasing some retro, one-of-a-kind, intuitive crochet pieces, including shorts, skirts, nice summer/winter hats.
EmilyM: Are all of your pieces one-of-a-kind?
RK: In the creation aspect, as apposed to the look. I can make pieces that look alike, but never verbatim.
EmilyM: In my opinion, something very necessary these days…Last words or thoughts to our readers?
RK: You are what you love, not what loves you.
For details about Raphael's show on Saturday and the rest of the featured designers, visit http://www.denverfashionweek2012.com/. Hope to see you there!
First Class Fashionista is a proud media partner and sponsor of Denver Fashion Week. Our mission is to support our local designers and models