"I sincerely apologize. Nobody's personal life is my business," Jones tweets.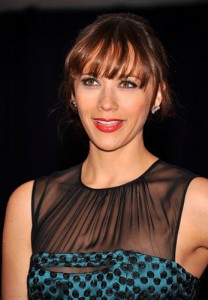 Rashida Jones is normally a funny woman, but when humorous contradicting remarks are released about others, jokes might not be so funny when the other party hears about it. Supposedly Tuesday morning, while Rashida Jones was promoting her new romantic comedy "Celeste and Jesse Forever", there was a conversation between her and Will McCormack on the Spinning Platters website. When the topic about Frank Ocean, an R&B musician who recently announced he is bisexual came up, Will McCormack said he believes the world needs more professional athletes to reveal they are gay. Then Jones said, "And all movie stars, like John Travolta come out!"
To back Jones remark, sources say lawsuits were filed by two male massage therapists against Travolta earlier this year. One of the massage therapists said Travolta started propositioning him for sex, while the other said Travolta tried to touch him and then began masturbating. Travolta denies these accusations and both massage therapist dropped their suits. In June, a former cruise ship attendant filed a lawsuit against Travolta, claiming he was sexually assaulted by Travolta in 2009.
We should not forget the fact that John Travolta has been married to Kelly Preston for 21 years, has had three children and recently lost his son Jett in 2009. Jones issued an apology to Travolta via Twitter Tuesday saying, "Made a thoughtless comment about John Travolta. I sincerely apologize. Nobody's personal life is my business."
According to a source, Spinning Platters writer Jason LeRoy told ABCNews.com that Jones statement only meant well. "It was a bold thing to say, but it was coming from a good place. It was within the context of the conversation about how empowering it was when Frank Ocean to came out," LeRoy explained.
The apology was likely never received because Travolta does not have a Twitter account. Jones might want to think about a face-to-face apology for Travolta.