Robert Pattinson recently made his first public appearance since the news of (now-ex?) girlfriend Kristen Stewart was caught in a cheating scandal. During the premiere of his new feature film Cosmopolis, Pattinson did his best to stay away from the topic. The 26-year-old was all smile despite the widely public news and looked quite handsome in a blue Gucci suit.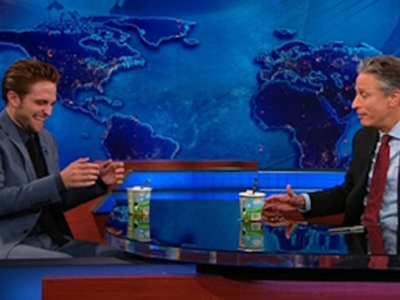 After the premiere, Pattinson caught up with John Stewart of The Daily Show, where they were anything but coy about the K.Stew topic. The usually all-business Pattinson, let loose and shared a few laughs with the host over what other than two pints of Ben and Jerry's.
"OK, let's just do this," the host continued, "Now, we're just a couple of gals talking," Stewart said. "All right…Tell me everything."
During the interview John did his best to give Rob some advice on dating and future love life.
"Listen, the last time I had a bad breakup, Ben and Jerry got me through some of the tougher times. So, I thought you and I could bond over this and talk about, 'Boy, you are better off, kick her to the curb. Whatevah!"
Although the two both had a good laugh, it's unconfirmed if the  Twilight couple has officially ended their long-term relationship.