The Color Shock Fashion Show presented by TACtile was an evening filled with bright colors, bold statements, and unique textiles. On the evening of Saturday, August 11, 2012, local designers showcased their interpretation of color in fashion. This show was inspired by the beautiful colors of the YSL exhibit at the Denver Art Museum.
Before the show started, two local women entertained the awaiting audience with their unique vocal talents while guests were tempted by delicious cheeses, cookies, fruits, and wine. Everyone also received a complimentary fabric swatch from TACtile. The evening's music was provided by Ameila Jacobs, Rosie Castle, and Dean Reiger.
As the models walked the runway to the culturally inspired music, the artists' designs were brought to life. Within the final walk, Jenny Wertz was awarded the winner of the Color Shock Fashion Show. Her winning design was a three piece ensemble, made during her Intermediate Patternmaking course at The Art Institute of Colorado. Her peach chiffon jacket held design details of a roll over collar, two center front buttons and French cuffs. The purple boned bustier was made of polyester twill and was lined with posh. The high waisted purple yoke skirt was made of silk chiffon, lined with posh, and the underskirt was made from polyester twill. Jenny Wertz is a determined fashion designer looking forward to receiving her bachelors degree in fashion design from The Art Institute of Colorado in December 2013.
Jenny Wertz's model wearing one of her designs.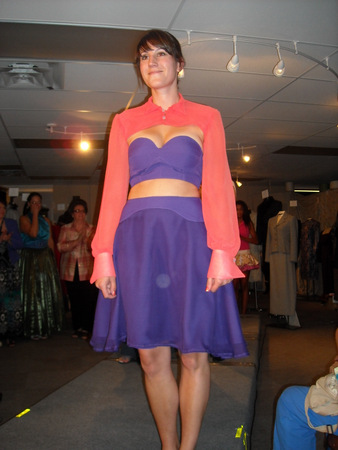 For more information on the Color Shock Fashion Show presented by TACtile go to: http://www.tactilearts.org/index.html
Featured Designers: Geri DeGeury, Dianne Denholm, Lael Dorman, Nancy Harris, Tricia Hoke, Michelle Jackson, Rochelle Jay, Mary Landauer, Marissa Lundeen, Jennifer McPherson, Nallely Rodriguez, James Silvraents, Vesta Stascavage, Eloise Wagers, Jenny Wertz, Ashley Winters.
Featured Models: Ali, April G., April W., Destinee, Hannah, Rebecca and Shelby. Enjoy the pics. Feel free to share on FB, Twitter, etc.