Charles Frederick Worth the Father of Haute Couture
Have you ever wondered where the fashion term "haute couture" or "high fashion" came from? Well here is your chance to learn about the father of haute couture, Charles Frederick Worth.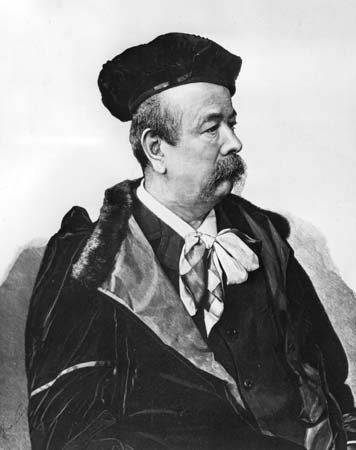 Charles Frederick Worth was born in Bourne, Lincolnshire, England on October 13th, 1825. He began his career by working as an apprentice and clerk for two London textile merchants. Worth gained a further love for fashion during his visit to the National Gallery, where he studied the historic portraits, which later inspired his own designs. After moving to Paris in 1845, he worked with Gagelin, a prominent firm specializing in textile goods, shawls, and some ready-made garments. Eventually Worth became lead salesman and opened a dress making department within the company. Worth gained a reputation within the firm by his own prize-winning designs which were displayed in the Great Exhibition in London, in 1851 and Exposition Universelle in Paris, in 1855. In 1858, Worth opened his own business where he based his knowledge on women's needs.
When the wife of Austrian ambassador bought a Worth dress, his timeless legacy began. Napoleon III married Empress Eugénie, where her taste in dress made her a loyal client to Worth, setting enormous success to Worth and his fashion career. Worth became the court designer and began making dresses for royalty of Russia, Italy, Spain, and Austria. Famous and wealthy Americans such as the Vanderbilts and the Astors also came to the House of Worth for their own special gowns, making Worth one of the first celebrity fashion designers.
Worth became known for his use of lavish fabrics, trims, and decorations of fringe, lace, braids, and tassels made of pearls. He was known for his historical influences and his notice to fit within his designs. His many important contributions to the fashion industry included the ankle-length walking skirt, princess gowns, and a waist-less dress that hung simple and straight in the front and draping in full pleats in the back.
Not only did worth create couture custom fit, one-of-a-kind garments for his clients, but he was also the first to display his designs on live models at the House of Worth. He began to make high fashion more widely available, by selling his designs to other dressmakers, clothing manufacturers, and department stores. Worth also made practice of mass-producing parts of a garment, then putting them together in different ways.
His aggressive self-promotion earned him the titles "father of haute couture" and "the first couturier." By the 1870s, his name was seen in fashion magazines.
The House of Worth is home to surviving Worth garments in permanent collections of The Costume Institute and other institutions in the United States. Clients have traveled to Paris to take home entire wardrobes from The House of Worth. Worth clients would purchase morning, afternoon, and evening dresses, wedding gowns, nightgowns, masquerade ball gowns, and costumes. Famous clients of Worth include leading actresses and singers like Sarah Bernhardt, Lillie Langtry, Nellie Melba, and Jenny Lind.
Worth died in 1895, but his business lived on by his sons Gaston-Lucien and Jean-Philippe from 1856-1926. The Worth sons maintained their fathers high standards in dramatic fabrics and outstanding trims. The Charles Fredrick Worth dynasty came to an end in 1952 when his great-grandson, Jean-Charles retired.
Charles Fredrick Worth was an amazing designer who set the bar in fashion design remarkably high. His name will live on for generations, as the first couturier and the father to haute couture.