Looks like Lady Gaga and boyfriend Taylor Kinney, from The Vampire Diaries, are getting serious as they celebrate their one year anniversary. In her latest video, Lady Gaga and Taylor Kinney stage an onscreen wedding with sentimental kiss.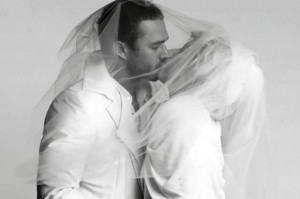 In the new You and I video, Lady Gaga is wearing a white gown and veil, while Kinney accompanies her in a white suit. The video is a blend between pure and innocent, and dark and exposed. Costume changes lead Lady Gaga into ripped fish nets, strapped leather boots, bondage gear and black under garments. Kinney is not so innocent himself, as he shows off his muscular chest and abdomen.
The song was written about Gaga's past relationship with ex-boyfriend Luc Carl, and the video was shot one year ago. That's when she met Taylor. The fashion film was directed by Inez and Vinoodh. Lady Gaga is the creative director.
Enjoy the video!