We've all heard the news. Taylor Swift has reportedly made her way into the arms of Robert F. Kennedy's son, Conor Kennedy. Pictures have surfaced of them canoodling all around the New England states. It looks like they've stayed together in Cape Cod, the Kennedy compound in Hyannis Port, Massachusetts, and they are said to even been attending church together with the rest of the Kennedy clan.
However, our sources say they are a little alarmed. Only two months ago, Swift was seen getting cozy with Patrick Schwarzenegger on the Fourth of July—Patrick and Conor are cousins! Could it be…Could it be that Miss Taylor Swift is looking to become a Kennedy herself? Could it be…or could it be just another publicity ploy???
A recent photo spread in US Magazine caught my eye, depicting photos of Taylor Swift in outfits that are very similar to none other than fashion icon Jackie Kennedy Onassis! The photo spread labeled Taylor Swift as a "John F. Kennedy memorabilia collector".
Photos of Taylor and Jackie in Sunglasses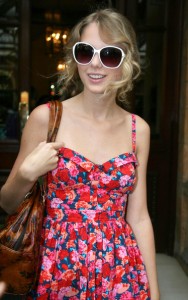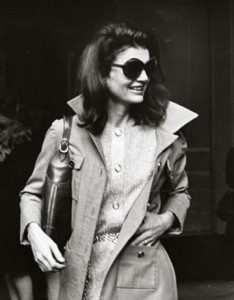 Photos of Taylor and Jackie in swimsuits AND of Taylor and Jackie in blue dresses AND of Taylor and Jackie in red dresses!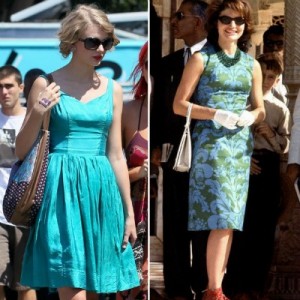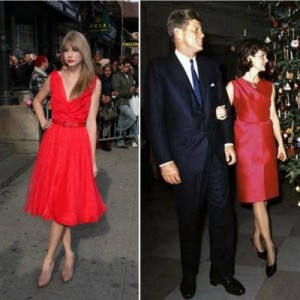 Miss Swift has always had a preppy, feminine style, but could these outfits be a result of her recent affairs with the men of the Kennedy family??  Tell us your thoughts below!