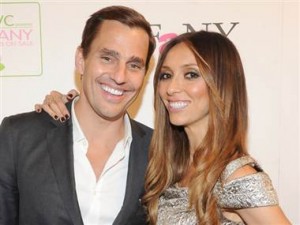 Wednesday evening, Giuliana and Bill Rancic welcomed a healthy 7 pounds and 4 ounce baby boy into their lives. After 4 hours of labor and a successful surrogate birth, the proud parents were united with son Edward Duke Rancic. We've been following Giuliana and Bill Rancic's public struggle with infertility. Both Giuliana and Bill have been extremely public with their decision and determination to bring a child into this world, and First Class Fashionista was overjoyed when it actually came time to share the news that their son arrived.
Bill took to Twitter to share the good news, "The "Duke" has landed! Edward Duke Rancic was welcomed into the world last night at 7lbs 4oz. G & I feel blessed beyond words…We did it!"
The couple has endured more than their share of disappointments during their attempts to get pregnant. While filming their show, Giuliana and Bill, they've shared their fertility efforts with millions of viewers and followers at E! News. They even shared their devastation that Giuliana's fertility treatments did not take. As if that wasn't enough, after receiving a round of treatments and testing, Giuliana was diagnosed with breast cancer. The couple then chose to look to a gestational surrogate to complete their family.
The diagnosis would be more than enough to deter the average couple from conceiving, but not this couple. After undergoing a lumpectomy, double mastectomy and reconstruction; the pair pushed forward with their dream of creating a family. A few months later, the E! News anchor has now shared the news that she and Bill have a baby boy!
We could not be happier for the new family!