Jamie Foxx as Wanda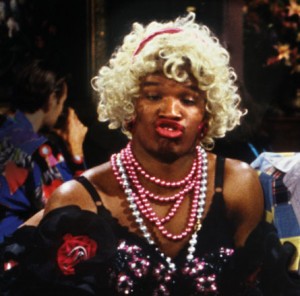 This post is brought to you by popular request. I've noticed that FCF has been getting daily search hits for black girl quotes….So I was kidding around while working out one day and decided that I would share a laugh with FCF visitors. This post is not intended to hurt, harm or offend anyone. It's only comedy. You can join in on the fun. Post a "black girl quote" and I just might publish it! Or tell me how much you dislike this post and how wrong I was for writing it…And I will probably publish that too! Here is where you can tell fans what you think. Share a comment with thousands of visitors. *Copyright Protected. First Class Fashionista permits a direct link and credit. *Don't forget to bookmark and share this post with a co-worker, friend, or family member.
1. Girl, I need to get in shape but I don't want to lose my butt or nothin'.
2. How my butt look?
3. Yes this hair is mine…I bought it!
4. That's jus my baby hair.
5. Get the kitchen.
6. Girl, I just came from the shop. I ain't wettin' my hair in no swimming pool.
7. That's jus my baby daddy.
8. He ain't about shit.
9. That's his other baby mama.
10. She gets on my last nerves.
11. Have you lost your eva' lovin' mind.
12. I got good hair Cause I got Indian in me.
13. I'll beat her like she stole somethin'.
14. Nigga what you talkin' bout.
15. I'll knock the black off yo ass.
16. I'mma snatch that weave outta her head.
17. I'm sick of her ass.
18. Pat the weave…Pat the weave.
19. Girl, you got it goin' on.
20. I was jus' minding my own business when…
21. What had happened was…
22. I love me some scrimp.
33.I'mma whoop yo ass.
34. That's my girl.
35. That's my play cousin.
36. I ain't playin'.
37. I ain't no nappy headed hoe.
38. Look at her, she thinks she cute.
39. Nigga Please…
40. This shit right here.
41. Girl, I ain't playin'
42. *itch Please.
43. But at the end of the day.
44. Nigga get off me.