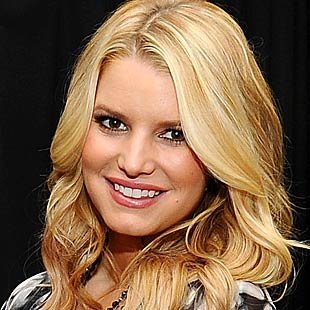 As you might have heard, Jessica Simpson and her fiancé Eric Johnson gave birth to their beautiful daughter, Maxwell Drew on May 1st. Maxwell weighed 9 pounds and 13 ounces. Since the pregnancy, Jessica has been working hard to lose the baby weight. According to reports, Jessica indulged and enjoyed every minute of her first pregnancy and this meant a lot of her favorite food, macaroni and cheese.
In March Jessica was at 170 pounds. According to Weight Watchers, the healthy weight for someone at Jessica's height is between 117 and 146. However, when all the weight didn't come off with the baby, Jessica knew she had to change her diet and she's making money doing it. Jessica signed a reported $4 million deal with Weight Watchers as their new celebrity spokeswoman. She feels that with Weight Watchers, she has the motivation to be healthy. In an interview, Jessica told Katie Couric she has lost weight every week since starting the program.
According to a source close to Jessica, Jessica has been eating less, but not depriving herself. Initially she was allowed 34 points a day (fruits and vegetables equal 0 points). Now that Maxwell is not breastfeeding, she is down to 28 points a day. Jessica claims she is a woman who needs her chocolate, so she allows herself a fun-size bag of M&Ms to satisfy her craving.
She's trying to get into shape in time for the next season of NBC's Fashion Star.
Working with personal trainer Harley Pastemak has also helped. She works out 4-5 times a week, doing 60 minutes of cardio. She enjoys walking, but supposedly her bust is too big to run at this point. She wears a pedometer and takes approximately 10,000-14,000 steps a day. Jessica has Fiance Eric Johnson's support and feels that he loves her the way she is right now. They really enjoy taking their daughter Maxwell out.
Jessica has Weight Watcher meetings in her home with her mom and several good friends. With a total of 14 people in the group, they've collectively lost 160 pounds in late August. Jessica thinks it is nice to do it all together and to motivate each other within the process. She wants to be a role model for women all over the world who are struggling with the same situation.
Jessica's weight cycles have always been something people like to comment on. It seems she has gotten a little used to it and hopes people will start getting bored talking about it at some point. "My body is not bouncing back like a supermodel. I'm just your everyday woman who is trying to feel good and be healthy for her daughter, her fiancé, and herself."