It's only two days until the global celebration of the fourth annual Fashion's Night Out!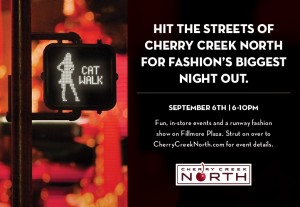 Cherry Creek North is proudly hosting Fashion's Biggest Night Out in Denver, Colorado. Participating boutiques and shops will offer free in-store entertainment, complimentary services, refreshments and extended shopping from 6-8 p.m. Fashion lovers will also want to attend the fashion show on Fillmore Plaza, featuring a 88 foot long runway with reserved and front row seating.
"For the first time ever, Cherry Creek North is kicking off Fashion Week in a big way! On the evening of September 6th, style lovers will wet their appetites with the latest fall fashions at in-store events throughout Cherry Creek North, followed by a spectacular runway fashion show on Fillmore Plaza featuring Cherry Creek North boutiques."
Doors open at 7:30 p.m. For more information and to purchase fashion show tickets visit http://cherrycreeknorth.com/events/fashions-night-out. This event was also featured at Examiner.com.