The 9th annual Italiano Festival will bring together the families of Colorado with music, art, and authentic Italian cuisine.  The event is this weekend, September 8th and 9th from 10am – 7pm at The Belmar shopping center in Lakewood, Colorado.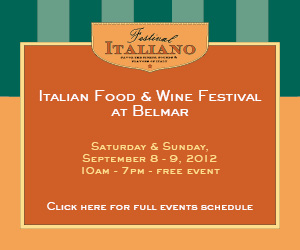 This free event will feature mouth-watering Italian food, artisan vendors, wine tastings, chef demonstrations, performances by the flag throwers from Florence, shopping, specials from 80 stores and restaurants in Belmar, The Bocce Tournament, and fun activities for children, like the Balistreri Vineyard's Children's Stomp.
To receive updates and chances to win festival prizes "like" the Festival Italiano on Facebook at: www.facebook.com/festivalitaliano
The Belmar shopping center is located at:
408 South Teller Street Lakewood, Co 80226
Here are a few tips to help you enjoy your time at the Festival Italiano:
Check out the event schedule before you go, so that you will be able to enjoy the many activities and performances planned throughout the day.
Park in the parking garages on Vance St. between Alameda and Alaska or on S. Saulsbury St. between Alaska and Virginia.
It would be better to leave your dogs at home for their own safety. The street gets hot on their paws and it can get overwhelming.
If you are from out of town and need a place to stay, the Holiday Inn Lakewood has been newly remodeled and provides free shuttle service for guests.
Hope to see you there, and have a great weekend!