The Hot Child in the City fashion show was presented by The Art Institute of Colorado, September 6, 2012 at the Opus Restaurant and Aria Wine Bar. During the social hour, guests enjoyed delicious Opus and Aria hors d' oeuvres and drink, and exciting dance music was played by DJ SampsoNite. Robbi Fung, the venue coordinator, introduced the show as Tanner Brown welcomed the scene selections as the fashion show commentator.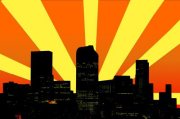 Once the show began at 5:30pm, DJ SamsoNite turned up the beat as local models delivered stylish trend forward looks from vendors of Day and Night Vintage, Boss Unlimited Vintage, Rack and Roll Clothing, Zia's Boutique, and Macy's at Cherry Creek. The garments from these vendors consisted of black and white 1960's dresses, zigzag patterned dresses in alternating colors of teal, cream, pink, and purple. Bright green suit jackets, gray jackets, tan and gold horizontal striped knit dresses, light pink sheer shirts matched with straight leg red jeans and black suit jackets, orange knit tunics, skull patterned dresses with black jean vests, high-waisted white sleeveless dresses with scalloped hems, high-waisted loose black and brown patterned dresses, white tent jackets with wide collars, black and white plaid skirts worn with white button-up collared shirts, purple pants with brown leather jackets, and sleeveless floral patterned red dresses embossed with texture.
The fifth scene was called Don't Forget the Details which showcased accessories made from Whitney Upchurch's Accessories course from The Art Institute of Colorado. The following students revealed their one-of-a-kind handmade pieces; Jenny Wertz, Nick Bain, Chloe Heglin, Ndindisa Chabwera, Libby Draper, and Alyssa Ellson. Each accessory revealed a deeper meaning of origin and inspirations from all over the world.
The last scene was called Student Designers Step Out. This scene showcased the student collections made from Cindy Bainbridge's Senior Collection course from The Art Institute of Colorado. Erica Vallejo's collection Lavish Delicacy showcased Edwardian inspired looks of evening dresses embroidered with beading and lace. Marissa Lundeen's collection Inside Out introduced the audience to catastrophic inspired, distressed swimwear cover-up dresses. Joel Parada's collection, Baroque Carcass, consisted of vintage fur, sheer body suits embroidered with millions of beads and sequins, antlers, and avaunt-garde design details. Chloe Heglin's collection, Petrichor, feautured garments inspired by The Great Gatsby. Her collection told a story about a girl who was lost in a hedge maze, she had to survive by her own means of animals within the hedge maze, in which she had to wear their fur to keep warm. Last, but not least graduating student Heidi Bowden, presented her collection, Rusted Entanglement, which showed-off a hand knit red hooded jacket, an emerald green honey-comb smocked dress with chrome painted details on the yoke, a dark forest green roused dress with chained shoulder strapped details, and a fully boned silk corset paired with a floor length crocheted skirt.
After the show, everyone was so ecstatically happy to see either their own designs or their fellow class-mates. Hot Child in the City was beautifully produced by the Event and Fashion Show Production Summer Quarter 2012 Class instructed by Cynthia Petrus. The students that produced this show included Brittni Brumley, Tanner Brown, Robbi Fung, Heidi Bowden, Rachel Whitfield, William Wilkening, Jasmine Bozeman, and Gerardo Isais.
Enjoy the picture gallery!