Midterm Week Tips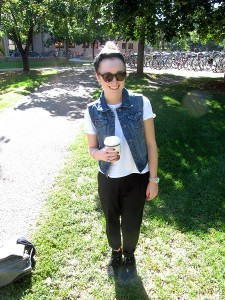 With midterms approaching, it's hard to motivate myself to get dressed in the morning. However, I've found that if I make it over this hurdle, my day flows so much smoother. My daily outfits put me in a certain mindset as I go through my day. So this midterm week you won't find me in sweats! Here's what I do to pick the perfect power outfit:
1) Set my outfit out the night before. This prevents me from throwing on my go to leggings when I just can't find the right outfit in the morning.
2) Include a statement piece. In this case, I chose my jean vest because I like the contrast between the denim vest and black trousers.
3) Think with both style and comfort in mind. It's midterms week and I don't want to feel confined, so instead I pick one piece that's dressier but loose fitting. The other pieces I keep simple and comfortable.
4) Wear practical shoes. My campus is big and on Mondays, Wednesdays and Fridays I walk back and forth five times with a 10 minute walk each way. That doesn't sound long, but it can be painful on my feet. I wear TOMS, flats, or boots with no heels. It makes me less tired at the end of the day, and my walks more enjoyable.
5) Don't forget the coffee or tea! My favorite accessory is my cup of tea. In the morning, this is a must to keep me calm and help me settle into my day of classes and studying.
Whether you have a busy week of midterms or a busy day at the office, these are helpful tips for looking chic and put together in times of stress.