This past Saturday I had the pleasure of attending FACE, an event held every other year for those in the fashion industry with a creative drive. Held at the Denver Art Museum, the theme for this year was 'Sustainable Style'. Each speaker addressed how he or she maintained their creativity while promoting sustainability in their business values.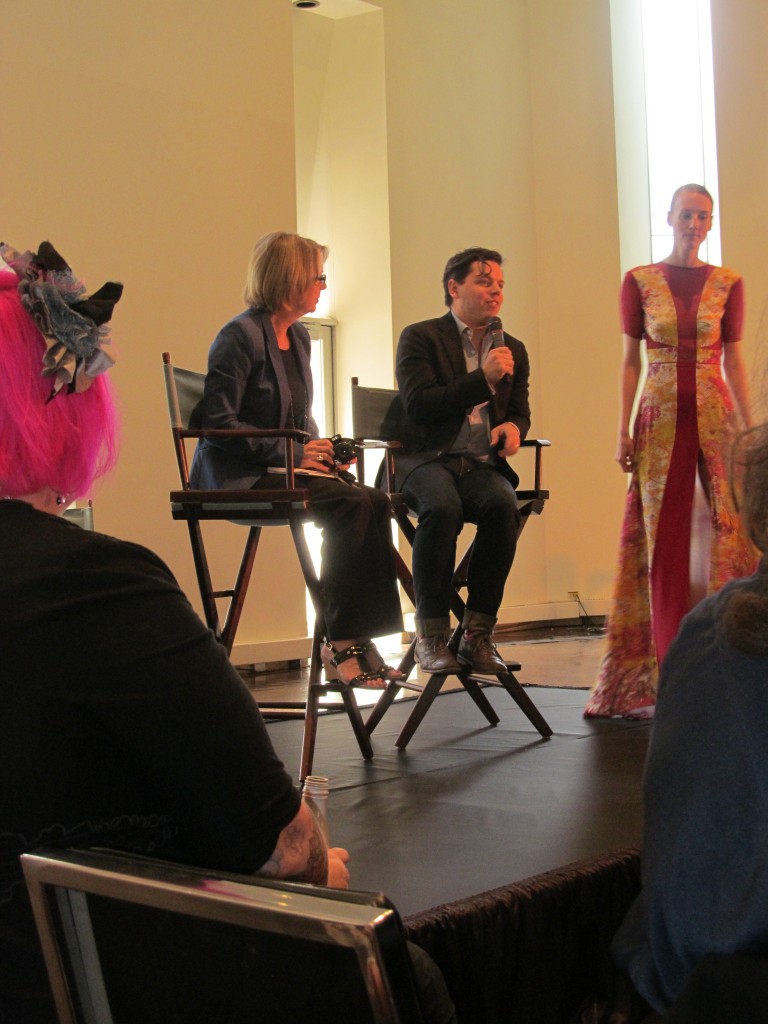 The industry experts this year included: Jane Hamill, Founder of Fashion Brain Academy and Director of Design Education, Chicago Fashion Incubator, Summer Star Haeske, Environmental Leader and current Director of Sales and Marketing at EnviroTextiles, David Peck, Founder / Designer of CrOp, Betsy Martin, Publisher & Editor In Chief of Reign Magazine, Carolann Watcher, Fashion Designer, Lindsay Bloom, Founder / Designer of Bloom Jewelry, and Scott Prindle, CTO/Partner of MADE Movement.
Each speaker shared a unique experience on how he or she got their foot in the industry, which included their struggles and triumphs of the past, and where they are today. Their perspectives offered insights on how to succeed, and tips to begin the process. I could write an essay on the invaluable information I gathered from this event. However, I will just highlight some key points and details of the day.
First up was Jane Hamill. Hamill owned a retail and wholesale women's contemporary line for over 14 years. In the process her line was carried at Macy's, Saks, Bloomies by Mail, and numerous boutiques. Today, she is the founder of Fashion Brain Academy, where she teaches creative entrepreneurs how to market their businesses, attract customers, and make more money. However, it wasn't all kool-ade and sunshine for Hamill. She dealt with the worries of a new business, found investors, realized she was selling items for wholesale not retail and didn't know how to present to a buyer. With time and experience, she developed her brand and eventually found her true passion.
Here are some tips Hamill passed along for those wanting to start their own business:
1)   Do your research and see what's out there
"We produce what we think people need. We should be producing what they want."
2)   Make a one page business plan
What will I sell?
Who will I sell it to?
How will it help people?
What am I going to provide that's different than what's out there?
3)   Think about costing and pricing
What are your selling points—create a simple financial plan
4)   Product Development
Get samples made
Patterns, sewing and fittings
Is your product going to be profitable?
5)   Figure out how to sell your line
Which is the best outlet for your product?
Online, boutiques, wholesale, home parties?
6)   Sell Line
Sell with a purpose and be clear about what you are selling
Last, but not least, Hamill left the audience with two additional tips:
Be prepared
Connect with people
Next, Summer Star talked about how she has been committed to advocating social awareness of hemp ever since she was a little girl. For over 20 years, she has worked alongside her mother, Barbara Filippon, founder of EnviroTextiles. Star advocates and works on expanding national knowledge of this fiber and its environmental impacts. She stressed that the sustainable market is not big enough for competition, and that there is a new wave of designers showing people that there are no limits in the industry. It is the responsibility of the suppliers to be transparent not only in their sustainable practices, but also their availability. In the last six years, there has been a boom in natural products and raising awareness. This gives hope that by increasing supply, the prices of pure fiber can be reduced. My favorite quote from Star, summing up the importance of sustainability and hemp awareness was, "What we're putting on our bodies is just as important as what's in it." We hear a lot about organic and natural foods and try to include these products in our diets. Using hemp and being knowledgeable about where our clothes are coming from allows us to understand the positive impact of sustainable products in all aspects of our daily life.
Panelist David Peck shared how he learned to sew spectacularly at a young age. He didn't have someone to point him in the direction of fashion; instead, he found it himself. His passion led him to Paris for five years where he attended Parsons and worked for noted fashion houses. After, he relocated to New York but, because of his family, he was relocated to Houston. Fortunately, his job as the North American rep for Parsons Paris allowed him to work from anywhere. Despite the glamor of the title and the comfy position, Peck quickly became bored and decided to make five dresses and see where they would sell. Then, one thing led to another and he founded CrOp, creative opportunities. Peck's design aesthetic is based on creating products that people want and need. His traditional silhouettes and bold colors and prints create beautiful items that attract women. Growing up in beautiful environments and seeing how easily and obviously they are destroyed, instilled values in Peck.
Without sacrificing aesthetic, Peck aims to incorporate sustainable values in his practices. He started running his own manufacturing warehouse, employing women who sew in their own homes, and working with Fair Trade groups in India. His dedication to sustainability is reflected in the low impact printing methods and incorporation of organic, natural fibers in his collections. Creating a positive impact through local, domestically manufactured and fair trade products is apart of Peck's commitment to sustainability. Not only does he help the environment, but also charities. He says that because it is not feasible for his business to just give money, he partners with charities to raise awareness of their cause.
When interviewer and fashion editor of the Denver post, Suzanne Brown, asked Peck where the business is now and where is it going? He replied that the design aesthetic is "a cross between Ralph Lauren, Martha Stewart and Oprah." He appreciates and strives for Ralph Lauren's different levels of affordability, creating a perfect environment like Martha Stewart and raising awareness about global issues like Oprah. Overall aiming to produce a global impact.
Last up on the day's agenda was a panel of industry experts, including Betsy Martin, Carolann Watcher, Lindsay Bloom, and Scott Prindle discussing marketing and branding. Here are few tips (out of many) I compiled from this incredibly helpful session:
Find a true voice in your work that shows your ethos
Be genuine to the brand, as well as consistent
Be approachable
When creating a brand, have good photographs—for both lifestyle and product shots!
For a product to be sustainable, it needs to have quality
Online customer relationships are developed through creating a personality and image
When sending your work to companies, be brief (how do you help their business?), include links, and a couple low-resolution photos
Have a good lookbook
If you have passion, stick with it! You will ultimately succeed.
The day concluded with a fashion show. Donna Baldwin models walked the runway in student and local professional designs. All the pieces were locally and/or sustainably made. Each beautifully made design displayed the hope, possibility, and importance of sustainable style.