Need Help Achieving Your Next Goal?
To celebrate confident, driven women, and the new Degree Women Clinical Protection with motionSENSE in Cotton Fresh, Degree teamed up with Sports Broadcaster Erin Andrews to host its Unapologetically Strong contest on Facebook.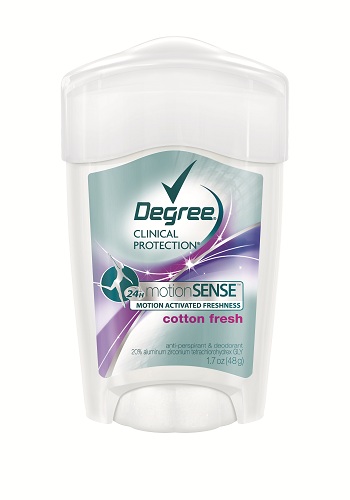 "As much as I am very much a tomboy, I want to smell good and I am thrilled to be a part of Degree Women® Unapologetically Strong. I applaud all the women that are pushing the limits and women that can do that in their field or at home, who wouldn't want to applaud them," says Andrews.
Erin tells the story of how she was watching a game with her dad and said, "I want to do this for a living." He replied, "Everybody wants to do this for a living." Today, Erin's success is pushing the limits and raising the bar for all women.
Like Erin, the women at First Class Fashionista are unapologetically strong. Yes, it seems, there is a lot of interest in blogging but it's not all glitz and glam. A successful blog takes commitment and sacrifice. That's why so many blogs come and go. FCF's writers are in school and working. Our fitness writer manages a career as a personal trainer and professional athlete while contributing, and studying for her Master's Degree. First Class Fashionista is a true labor of love. Despite our personal challenges and lack of real funding, as a team, we are unapologetically strong. We go above and beyond to produce quality work for our readers and our partners—and nothing less! As professional bloggers, like Erin, we are raising the bar in our field.
Need help achieving your next goal? Share your unapologetically strong story with Degree to enter for a chance to win $5,000. The winner's journey will be documented on Facebook. Visit http://www.facebook.com/DegreeWomen/app_490698364273986
Disclosure:
This post is sponsored by Degree Women®. The opinions expressed herein are those of the author and are not indicative of the opinions or positions of Degree or Degree Women®. Brand Satement: Want to run a half marathon? Go on the adventure of a lifetime? Give back to your community? Erin Andrews and Degree are teaming up to celebrate boundry-pushing women everywhere. Tell us how you would use $5,000 to achieve your Unapologetically Strong goal. One lucky winner will have their journey documented on Facebook and sponsored by Degree.